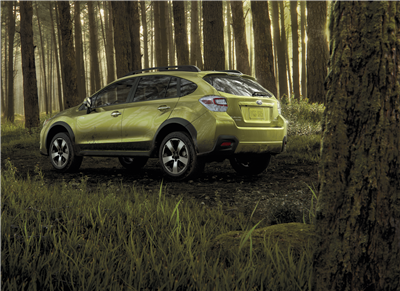 If you squint your eyes, the 2016 Subaru Crosstrek and 2016 Mitsubishi Outlander Sport have some superficial exterior similarities. Most notably, they both clearly resemble station wagon or five door hatchback sedans.
However, that is where the comparisons end. The 2016 Subaru Crosstrek trumps the 2016 Outlander Sport in nearly every category, offering a better value and a better vehicle overall. Montclair, Clifton and Bloomfield drivers can read on and then decide for themselves. Afterwards, they can visit Lynnes Subaru in Bloomfield to test drive the 2016 Subaru Crosstrek and see why it has left so many good impressions.

Subaru XV Crosstrek Exterior vs. Mitsubishi Outlander Sport Exterior
Exterior design is the category that the Mitsubishi and the Subaru seem to parallel most closely. Rather than appearing boxy and tall, the two vehicles aim for a longer, leaner but still stout look compared to other compact crossover SUVs.
Looking at the Mitsubishi Outlander Sport, it has nearly six inches less length, a slightly narrower width and marginally more height than the Crosstrek. This makes the Outlander Sport standout by virtue of its slightly longer wheelbase and beefier front nose. Speaking of noses, the Outlander Sport's front fascia was redesigned to look more in line with its Outlander big brother. The results have been polarizing, with many favoring the original design.
The 2016 Subaru Crosstrek looks decidedly more car-like, despite having slightly higher ground clearance and nearly equivalent width and height. Standard roof racks, more-rugged body cladding and fender flares and a cleaner, more geometric front nose all make the Crosstrek appear more attractive and capable than the Outlander Sport at a glance.
XV Crosstrek Interior vs. Outlander Sport Interior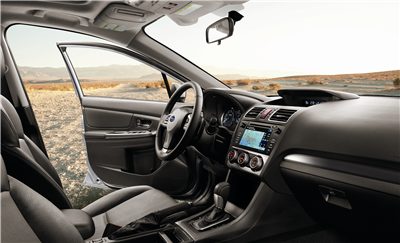 The 2016 Outlander Sport took a major hit in reviews for its bland, bare interior. Cheap plastics and an overall lack of details or feature comforts can feel like stepping into a low-end rental car, according to reviewers like John Voelcker of The Car Connection.
By comparison, the 2016 Crosstrek is by no means a luxury car or a showstopper, but its interior uses much higher-quality dash plastics, has more-comfortable seats and uses generally better thought-out design that is both comforting and comfortable. Of note is the fact that although the vehicles have roughly the same width and height, the Crosstrek offers more cargo room both behind the second row and when the backseats are folded down.
Subaru vs. Mitsubishi Performance
Looking just at the fact that the Subaru's only engine shares the same 2.0-liter displacement size and 148 hp rating as the Outlander Sport, one may think that the vehicles have similar performance. Because of the Outlander Sport's troublesome CVT, this is not the case. Acceleration is slow in the Outlander Sport, and the transmission tends to have trouble selecting the proper gear ratio or responding to throttle input in general. Handling is decent, but the Subaru Crosstrek's confident electronic-assisted steering receives more praise.
Also praiseworthy for the Subaru Crosstrek is its standard All-Wheel Drive system, which makes New Jersey winter driving woes a thing of the past thanks to advanced traction control and handling capabilities, even in the worst slush or sleet.
Test Drive the Subaru Crosstrek at Lynnes Subaru
Unfortunately, this comparison ends up being not much of a comparison. Nose updates aside, the only category that the Outlander Sport holds a candle to the 2016 Crosstrek is superficial exterior looks. When it comes to actually driving and sitting in the car, most people would gladly pick the higher-quality and more capable AWD Crosstrek.
Montclair, Clifton and Bloomfield drivers do not have to take our word for it, either. They can visit Lynnes Subaru in Bloomfield and schedule a test drive of the 2016 Subaru Crosstrek today!
We are conveniently located at 379 Bloomfield Ave in Bloomfiel, NJ. Our team of helpful and friendly sales associates would be happy to assist you in all of your Subaru Crosstrek buying needs Monday through Friday from 9am-9pm and Satruday from 9am-7pm. Stop in and visit us today! We look forward to seeing you.