Here at Lynnes Subaru, we take pride in supporting drivers in Bloomfield, Clifton, and Montclair throughout the life of their vehicles. We provide everything you might need to keep your vehicle running smoothly and safely so it will remain a delight to drive. That means offering regular maintenance checks, so here's a schedule of what should be done and when to keep your Subaru WRX in excellent condition.
Normal vs. Extraordinary Driving Conditions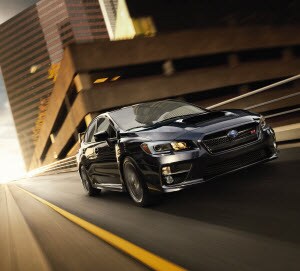 This guide was designed for cars operating under normal usage conditions. If you use your vehicle under any of these more unusual conditions, you'll need to schedule more frequent maintenance checks:
   
Rough, sandy, dusty, or muddy roads as well as roads covered in corrosive substances like salt
          
Mountains and steep climbs or slopes
          
Frequent long periods of idling, short-distance driving, or extremely low-speed driving for extended periods
          
Heavy metropolitan traffic combined with hot weather of 90ºF or more for more than half of your driving time
          
Long periods of extreme cold or high humidity
Subaru WRX Maintenance Check 1 at 3,000 Miles
This first maintenance visit should occur after passing the 3,000-mile mark or after you've had the car for three months. At this time, you should have your engine oil and oil filter replaced as well as check all fluids and tires.
Subaru WRX Maintenance Check 2 at 7,500 Miles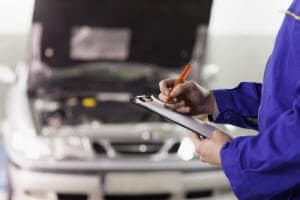 Once you reach 7500 miles or seven to eight months, your Subaru WRX should have minor service. This includes replacing the engine oil and filter, rotating the tires, inspecting the rear and parking brakes and adjusting them if necessary, testing the battery and charging system, and checking the lights, hoses, and belts.
From here on out, you'll want to have a maintenance checkup about every other year at the longest.
2016 Subaru WRX Maintenance Check at 15,000 Miles
At 15,000 miles, you'll need to have an emissions tune-up. You'll want to have your engine oil and filter replaced, tires rotated, and cabin air filter replaced by this time. This is also the point where you should request an intermediate service, which includes inspecting the brake lines, brake discs and pads, clutch, axle boots and axle shaft, steering, and suspension.
This type of service should be repeated at 45,000 miles and 75,000 miles. You can track the timing by months if you prefer, and the standard is to consider a month equivalent to 1,000 miles.
Subaru WRX Major Service at 30,000 Miles
Your first major service should come at 30,000 miles or about 30 months (just under three years) from the time your Subaru WRX was new. This service should replace the engine oil and filter and rotate your tires just as most services do.
It should also include replacing the brake fluid, air filters, spark plugs, PVC valve, and engine coolant as well as inspecting the brake lines, parking brake, axle boots and shaft, clutch, steering, suspension, fuel lines, and drive belt. All fluids should be checked at this time, including the automatic transmission fluid, front and rear differential oil and gear oil, and engine coolant.
This type of major service is much less frequent than minor and intermediate services. You'll need to alternate requesting a Major Service I, as just described, with a Major Service II. This is similar to the first type but also includes servicing the automatic transmission, examining the cam shaft belt, and inspecting the front and rear wheel bearings. You'll need one of the two types of major service every 30,000 miles or the equivalent in months.
Going Forward with Servicing Your Subaru WRX in Bloomfield, Clifton, or Montclair
A special 105,000-mile service includes replacing the belts but is otherwise identical to a minor service.
Moving forward, you should keep up the rhythm of minor, intermediate, and major services at regular intervals. However, as the car starts to age, you'll want to have it looked at a little more frequently.
If you're a Subaru WRX owner in Bloomfield, Clifton, or Montclair, give us a call at Lynnes Subaru to learn more or schedule a maintenance check or service today.