The 2017 Subaru Outback and 2017 Toyota RAV4 are both great cars, but the Subaru breaks away in terms of standout quality and value for several reasons. The Subaru Outback uses a more advanced form of All-Wheel Drive that comes standard. Although the RAV4 has more overall cargo area, the Outback is based on a larger platform and offers more versatile capability overall.
Bloomfield, Clifton, and Montclair drivers can explore these differences in depth below before coming to Lynnes Subaru and test driving a 2017 Subaru Outback in person.
2017 Subaru Outback Exterior vs. 2017 Toyota RAV4 Exterior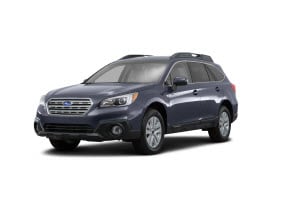 Both the 2017 Subaru Outback and the 2017 Toyota RAV4 utilize great exterior styling, but in different ways.
The current Outback learns much from the previous generations of Outback while adding modern design sensibilities. In place of overstated side cladding, the vehicle substitutes appealingly smooth side panels. Up front, a bold but simple headlight and grille design sit inside a jutting fascia nose. The Outback's canopy lends the vehicle's most notable design cue: its appealing shape, which resembles a tall, more-rugged station wagon.
Toyota's RAV4 looks slightly more SUV-like, considering its tall height-to-length ratio, but this comes down to the RAV4 being over eight inches shorter than the Outback. Its tall canopy and aggressive front styling also don't quite gel with the vehicle's side profile that reveals its connection to Corolla and Prius platform-mates.
In summary, the Outback looks more upmarket, elegant, and unique, while the RAV4 mixes in too many conflicting ideas to an overall bland effect.
Subaru Outback Performance vs. Toyota RAV4 Performance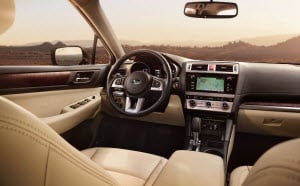 Base engine configurations on the 2017 Outback and 2017 RAV4 are surprisingly neck-and-neck. The RAV4 ups the Outback's 174 horsepower base flat-four engine by one horsepower, while the Outback's 174 lb-ft of torque bests the RAV4 by two. Yet, the Outback is a much more capable performer. It can run 0 to 60 mph in 7.1 seconds, beating the RAV4's 8.8 seconds handily. It also comes equipped with standard All-Wheel Drive, making it slightly heavier than the non-All-Wheel Drive RAV4 by just over 100 pounds, but much more capable at cornering or handling rough conditions.
Even with All-Wheel Drive, the RAV4 has been criticized by Car and Driver for a harsh, unrefined ride with "lifeless steering" and an "uninspired powertrain." By contrast, the Outback was praised for confident handling, strong acceleration, and a comfortable, quiet ride.
Subaru Outback Interior vs. Toyota RAV4 Interior
The RAV4 has a great, stylish, and moderately comfortable interior, but its design philosophy is mired within a down market segment approach. Its options can improve quality, but the Subaru comes equipped out of the gate with high-quality dash and trim materials, more comfortable seats, and a more comfortable ride in terms of both bumps and sounds.
Adding options places the Outback even further upmarket of the RAV4, such as the option to choose genuine leather interior seats and side panel trims.
2017 Subaru Outback vs. 2017 Toyota RAV4 Verdict: Subaru Outback
The 2017 Toyota RAV4 is a great car built by a great company, but comes up short against the 2017 Subaru Outback's capability, comfort, and performance by nearly every measure. Bloomfield, Clifton, and Montclair drivers can see this difference for themselves by booking a test drive at Lynnes Subaru. Contact us today for more information. We look forward to seeing you!