The 2017 Subaru Outback and 2017 Toyota Highlander both present appealing choices to certain car buyers and families, but the Outback emerges as the more well-rounded vehicle of the two. With more standard features, a better interior at comparable trims, and a more can-do attitude than the Highlander, the Outback presents a more economical, higher quality choice overall.
Bloomfield, Clifton, and Montclair drivers will grasp the value and quality of the Outback immediately compared to the Highlander. They can come to Lynnes Subaru to feel the difference in person after reading our car comparison below.
2017 Subaru Outback Size vs. 2017 Toyota Highlander Size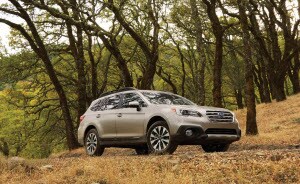 The 2017 Subaru Outback and 2017 Toyota Highlander occupy different vehicle segments that traditionally offer different value points for vehicle owners.
The Outback is categorized as a compact CUV, although it may be more accurately described as a large wagon with a tall 8.7-inch ground clearance, which incidentally tops the bigger Highlander's ground clearance by 0.7 inches. Inside, the Outback seats a maximum of five people with a long cargo area in the rear.
The Highlander is a much bigger looking vehicle, although technically it only bests the Outback by three inches of length and two inches of height. The Highlander also has three more inches of width, making it sometimes feel bloated on tight streets and small parking spaces.
All this extra girth adds up to quite a lot: over 1,000 pounds in weight difference when comparing the V6 All-Wheel Drive Highlander to the base flat-four All-Wheel Drive Outback, and the flat-six Outback is still about 800 pounds lighter.
Subaru Outback vs. Toyota Highlander Fuel Economy
As you might imagine, this weight dramatically affects the Highlander's performance and fuel economy. Even with the available hybrid, the Highlander also likely prompts more trips to the pump than either the base or the 6-cylinder Outback. This estimated mileage will depend on your driving habits, but a heavier vehicle always means more effort to accelerate, which requires a leaden foot. It also means less composure in turning and accelerating, both things the Outback bests the Highlander at.
Outback Exterior vs. Highlander Exterior
The 2017 Toyota Highlander attempts an aggressive look, but rides on a more minivan-like platform. The 2017 Subaru Outback has a more well-rounded appearance overall, with appealing curves and a less cumbersome profile. Judging aesthetics ultimately comes down to tastes, but the Toyota Highlander looks larger and over-styled compared to the Outback.
Subaru Outback Interior vs. Toyota Highlander Interior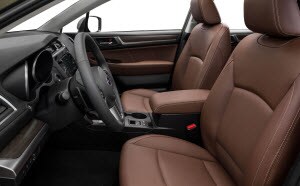 Toyota always wants to present economical choices to its drivers, which is why their base trims are usually sorely lacking in comfort. Moving upwards gains said comfort, but alongside the price jump of several trims.
The base Outback has a more comfortable interior than the equivalent Highlander, and moving up to even the highest level of trim with real leather seats provides a less intense increase compared to navigating the Highlander's trim options. In other words, you get more Outback with less investment at nearly all trim levels.
2017 Subaru Outback vs. 2017 Toyota Highlander Verdict: The 2017 Outback
Bloomfield, Clifton, and Montclair drivers may have difficulty making direct comparisons to the 2017 Subaru Outback and the 2017 Toyota Highlander, but it all comes down to efficient packaging. If they want a more economical vehicle that's easier to maneuver, comes standard with All-Wheel Drive, and packs more enjoyable performance from a lighter, more agile design, then the Outback wins hands-down.
If they absolutely need a third row and are willing to invest in a girthier vehicle, the Highlander may suit their needs. Drivers interested in seeing just how charming the Subaru Outback can be should search our inventory before coming to Lynnes Subaru for a test drive. Contact us today for more information. We look forward to seeing you!