For consumers looking for a quality car manufacturer, there's almost no name in the game more trusted than Subaru. Consumers in Montclair, Bloomfield, and Clifton trust Subaru vehicles for their style, performance, and great features. If you're looking for the best this manufacturer offers, you need to take a closer look at the Outback and the Crosstrek.
Each SUV provide consumers with the industry-leading features consumers want, making it useful to compare them head to head to see which model you should choose. Learn some of the best features of the 2017 Subaru Outback and the 2017 Subaru Crosstrek that'll impress every possible consumer.
2017 Outback Technology vs. 2017 Crosstrek Technology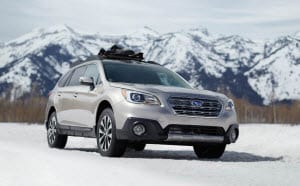 Virtually every car manufacturer boasts a top-quality infotainment system, and Subaru is no different. Whether you choose the Outback or the Crosstrek this year, you'll get access to the Subaru Starlink™ system, which provides great options for both entertainment and security.
When using Starlink™, you'll have options for great audio streaming, apps for fun and convenience, and the ability to sync either your Apple or Android smartphone. In addition, Starlink™ provides total vehicle security, thanks to such features as Automatic Collision Notification, Stolen Vehicle Recovery, and Enhanced Roadside Assistance.
Driving the Outback or the Crosstrek means great entertainment and total safety, thanks to intuitive Starlink™ technology.
Off-Road Capability
If you're thinking about purchasing a compact SUV, you want to make sure you get a model that you can control on road and off, which is one of the top reasons to choose the 2017 Subaru Outback or the 2017 Subaru Crosstrek.
Whichever excellent vehicle you choose, you'll get access to Subaru's Symmetrical All-Wheel Drive system. Unlike other all-wheel drive systems, Symmetrical All-Wheel Drive evenly transmits power to all your vehicle's wheels, making for a truly stable, enjoyable ride. If you want to take your vehicle off the beaten path, the best way to do so is with the Symmetrical All-Wheel Drive system of the Outback and Crosstrek.
Subaru Crosstrek Interior vs. Subaru Outback Interior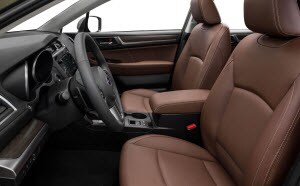 One of the biggest mistakes consumers make when looking for a new vehicle is failing to prioritize interior comfort. When you choose either the Crosstrek or the Outback, you'll get a smartly designed, spacious, and comfortable interior you'll always enjoy riding in.
Contrary to what you might expect from the compact SUV class, the interiors you'll find in the Outback and the Crosstrek can be best described as luxurious, providing amazing features that'll blow you away. Leather upholstery, leather trimmed steering, and flexible, spacious seating are just a few of the great interior options of these two excellent vehicles.
Taking a ride in either the Crosstrek or the Outback means being comfortable whenever you hit the road.
[Get more information: Read our article on the 2017 Subaru Outback's Interior.]
Choose Either the 2017 Subaru Outback or the 2017 Subaru Crosstrek
Whether you live in Montclair, Clifton, or Bloomfield, either the Crosstrek or the Outback would make a great choice to help get around in style. To test drive the 2017 Subaru Crosstrek or the 2017 Subaru Outback, contact us at Lynnes Subaru today!