Drivers in the Bloomfield, Clifton and Montclair, New Jersey area looking for a stylish hatchback with a spacious interior-look no further. The 2017 Subaru Outback has you covered, with its all new impressive interior dimensions, available colors and must-have comfort amenities. Test drive the new Subaru Outback near Bloomfield, Montclair and Clifton areas at Lynnes Subaru, today!
Subaru Outback Interior Dimensions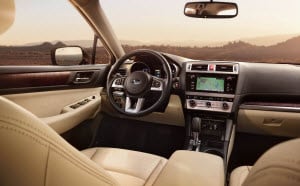 The 2017 Subaru Outback offers a spacious interior, with a total volume of 143.6 cubic feet, more than other hatchbacks in its class. Additionally, it comes with 35.5 cubic feet of rear cargo space. This more than doubles, to 73.5 cubic feet, when the rear seats are collapsed.
The front row of the Subaru Outback gives the driver and front seat passenger 40.8-inches of headroom and 42.9-inches of legroom. Rear passengers get 38.9-inches of headroom and 38.1-inches of legroom. All the seats are adjustable, as well, which could offer even more room depending on the configurations. Additionally, the Subaru Outback is two-inches wider on the interior than past year models, offering significant elbow room, especially to the front seat dwellers.
Subaru Outback Interior Colors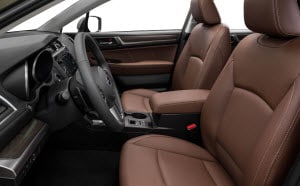 Many drivers might feel that interior color takes a back seat when it comes to making a decision on buying a vehicle. While interior colors aren't usually considered to be as important to consumers as the shiny exterior paint, the interior color can still add a great deal of personal value and style to the buyer; and therefore shouldn't be overlooked.
The Subaru Outback comes in two basic cloth seat color options: Slate Black and Warm Ivory. Any interior designer will tell you that the color of any space will dictate the perception of that space. If you choose the Slate Black, you are choosing an elegant, yet powerful color that invokes a sense of control and business. The Warm Ivory option will open up the already spacious interior, adding a further sense of roominess and warmth to the Subaru Outback.
Interior Amenities
Standard on all 2017 Subaru Outbacks are valuable safety assets, such as head airbags for all front and rear seat passengers and dual side-mounted airbags for the front seat. It also comes equipped with a rearview camera, allowing the driver to see more easily behind the vehicle.
As far as entertainment options go, the 2017 Subaru Outback comes with not only a standard AM/FM radio and CD player, but also auxiliary audio inputs and USB connections, which allows the passengers to import their own music from mobile devices, such as smartphones or tablets. You can keep all passengers happy with these exciting entertainment options!
Test Drive the 2017 Subaru Outback at Lynnes Subaru
Lynnes Subaru, the go-to place for drivers in the Bloomfield, Clifton and Montclair areas, is here for all of your driving needs. Contact us today for more information or to test drive the impressive 2017 Subaru Outback. Our sales staff is highly knowledgeable and more than willing to answer all of your questions!