The 2023 Subaru Love Promise Community Commitment Award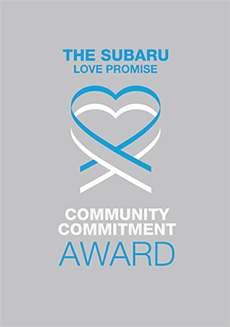 We've been nationally recognized for our dedication to our community and the Subaru Love Promise.
We're honored to receive the 2023 Subaru Love Promise Community Commitment Award. This award nationally recognizes Subaru retailers who are making the world a better place while demonstrating an outstanding commitment to supporting passions and causes in local communities. These efforts are focused in important areas such as the environment, community, health, education, and pets.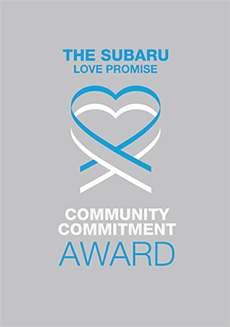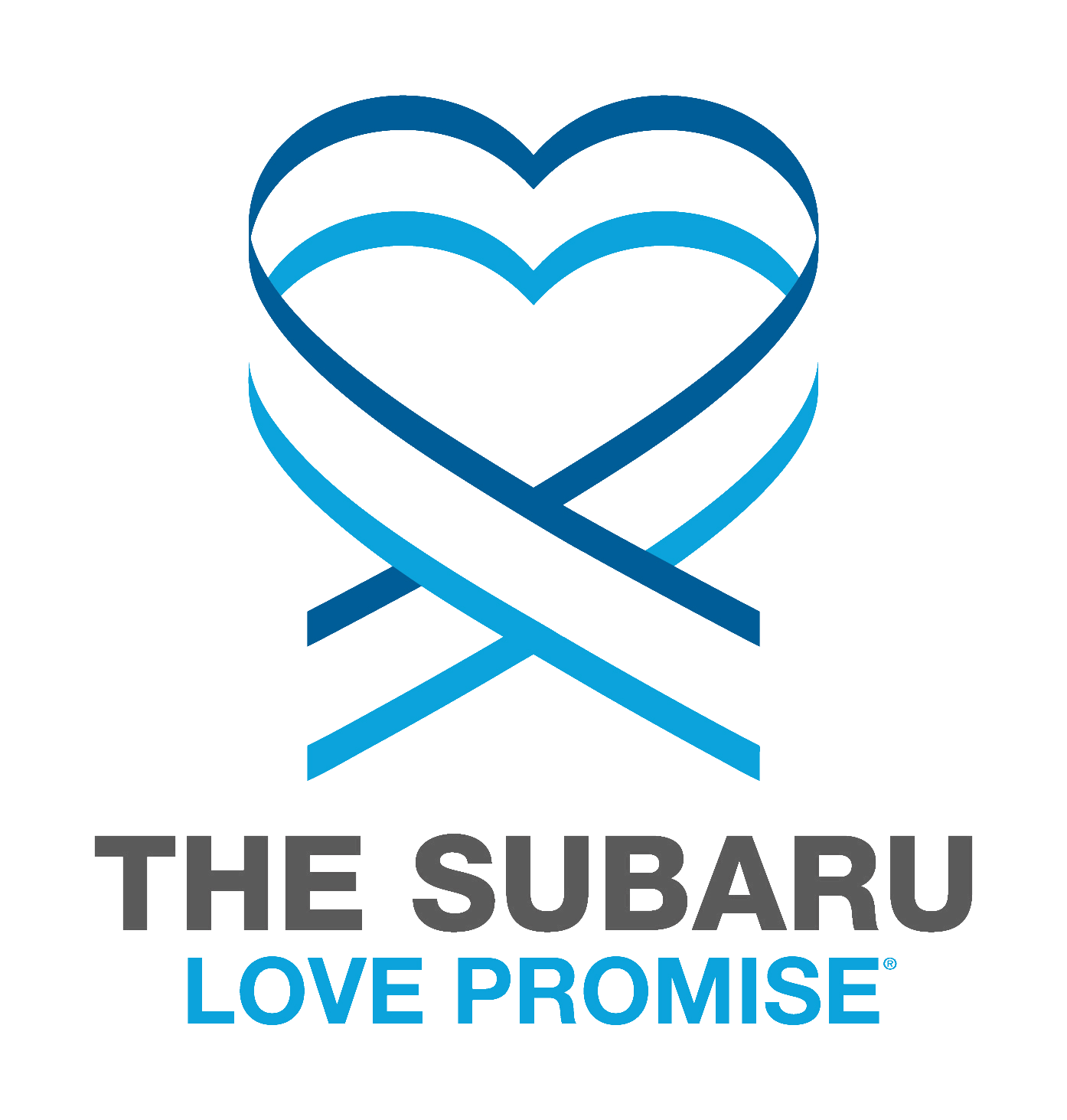 What is the Subaru Love Promise?
Subaru and our retailers believe in making the world a better place and the Subaru Love Promise is our vision of respecting all people. This is our commitment to show love and respect to our customers and to work to make a positive impact in the world.
How is Lynnes Subaru dedicated locally to the Love Promise?
Our Love Promise is to give love and support to our local schools and charities. Our customers along with our staff support our events and also help to make a difference in the lives of many.
Supporters of Bloomfield Animal Shelter
The Leukemia & Lymphoma Society – NJ Chapter
Love Promise Stories from Lynnes Subaru
Subaru and Lynnes Subaru believe in making a positive impact on the communities in which we live and work. We uphold that belief through our Love Promise Community Commitment. Every month, we select inspiring stories from customers and partners from around our area who strive to support our collective commitment and feature them here
Lynnes Subaru Loves Learning - Natasha B
Berkeley School was chosen by Lynnes Subaru to share their love of learning. The Students were presented with school supplies. The students greeted some of the employees and managers with handmade cards and posters of thanks. The children were led by their Principal, Dr. Baxter in receiving and thanking Lynnes for their kindness and generosity. In addition to the Share the Love School supplies, the Managers noticed that the students were selling pencils to add to their play area. Ms. Kelly of Lynnes Subaru inquired as to the cost of this playground equipment. Dr. Baxter provided the information and the Owner of Lynnes, Mr. Dominick Tozzo sent over a check for the entire amount and graciously provided the students with the playground equipment. Thank you all at Lynnes Subaru and Subaru of America.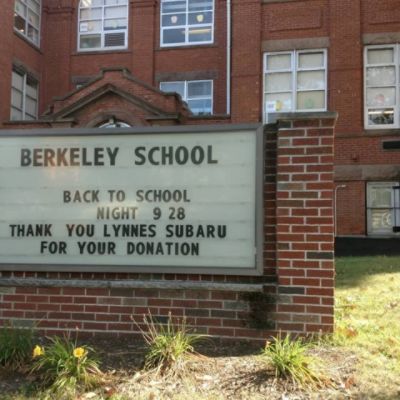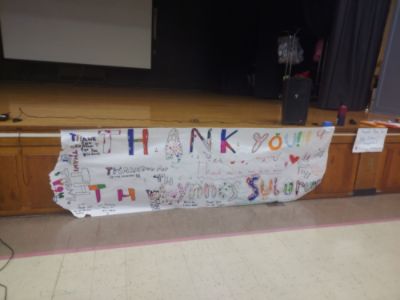 ---
Lynnes Subaru Loves to Help - Stella K
This past year we teamed up with the American Legion Post #299 and provided blankets, socks and snack bags to the Disabled Veterans Hospital. These people were so appreciative of the generosity and thoughtfulness of the gifts. The former military patients were so overwhelmed. It made our collective venture so worth it.
---
Lynnes Subaru Loves Learning - Natasha B
On Friday, September 30th, Lynnes Subaru delivered Subaru Loves Learning kits to the students at Berkeley Grammar School. The students, lead by their Principal Dr. Baxter, welcomed us with such a wonderful display of posters, cards and great applause. The students could not believe the wonderful supplies that were provided. Such a heart warming day! After the presentation was over, Dr. Baxter asked for a little help in getting a second play area for their outdoor play yard. Mr. Tozzo immediately said yes and a check was presented to Dr. Baxter for the purchase of this needed equipment. Love to Share in the Love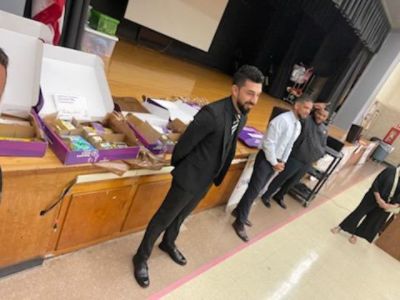 ---
Love Promise Story - Jaclyn M
Through our partnership with Lynnes Subaru in Bloomfield, we hosted one successful adoption event during the month of October. We brought eight pets to Lynnes Suburu and by the end of the event, the 'Supporters of the Bloomfield Animal Shelter' and Lynnes Subaru helped three pets find their perfect, loving homes. Thank you to Stella Kelly and staff from Lynnes Subaru for helping our deserving shelter pets find homes, and for helping raise awareness for the shelter. Frieda was brought to the shelter after reportedly being found as a stray in town. She was thin, dehydrated and weak, and covered in matted, urine-soaked fur. She was immediately taken to the Veterinarian's Office for treatment, and we were honestly not very hopeful that she'd have a positive outcome. After a few days of supportive care, Frieda recovered and blossomed into a happy, friendly, and frisky girl! Frieda was an underdog who was very popular with potential adopters at the Subaru Share the Love Event, and ultimately met her future family there! Days later she moved into her new home, and she is reportedly doing great! Thank you Lynnes Subaru!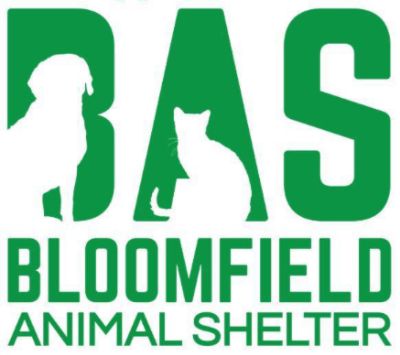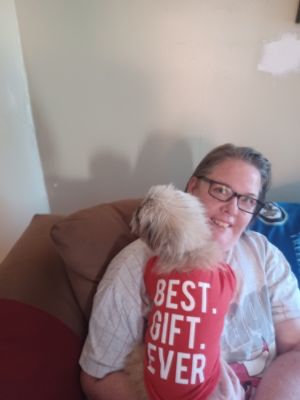 ---
Hurricane Ida Community Outreach - Ollyn L
On September 1, 2021 Hurricane Ida hit the tri-state area. Lynnes Subaru teamed up with the Bloomfield Center Alliance and held a fundraiser to assist the neighboring businesses that were severely damaged during this hurricane. Meeting was held with the members of the Alliance and together we joined up and held an outdoor benefit to raise much needed dollars. On Friday, September 10th, a fundraising Dinner Under the Stars was held with Entertainment provided by Bobby Valli (brother of Frankie). Many of our employees came out and donated and supported this fund raising event which helped raise over $5,000 for local businesses. Join us tomorrow for a special DINNER UNDER THE STARS - BENEFIT CONCERT. Money raised will be given to Bloomfield Center businesses that have experienced major flood damage due to Tropical Storm Ida. This event is FREE to attend.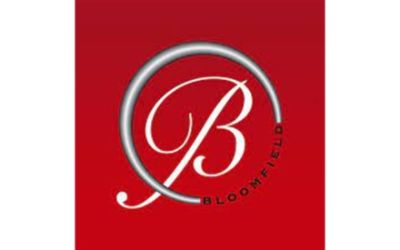 ---
Sharing Love with EO Veterans & AmericanLegion 299 - Thelma W
On December 21, 2021, we were honored to work with Lynnes Subaru, American Red Cross & our American Legion Post #299 and present Blankets, snacks & Holiday Cards created by children from American Red Cross to the East Orange Veterans Hospital. Thelma Wingfield-Miller assisted us in coordinating this heartwarming event. The veterans were so happy to know that someone cared enough to provide these gifts. The local American Legion Post #299 commander, Michael Serchio also joined our group from Lynnes Subaru to make this presentation. During this time of year, it is especially wonderful to be able to bring some joy into the lives of these veterans who have given their all to protect us all.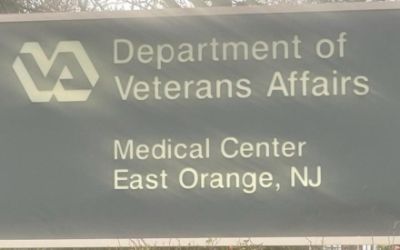 ---
Bloomfield Animal Shelter Donation - Mimi M
On behalf of Subaru's "Share The Love Event", Lynnes Subaru and Subaru of America are proud to present a check for over $23,000 to Supporters of the Bloomfield Animal Shelter. Lynnes Subaru chose this organization because of their relentless passion and commitment to animal adoption. We are honored to be able to support the efforts of this local nonprofit and we thank the many volunteers who help find a home for these beautiful cats and dogs. Visit http://www.bloomfieldshelter.com to learn how you can help donate and or adopt an animal.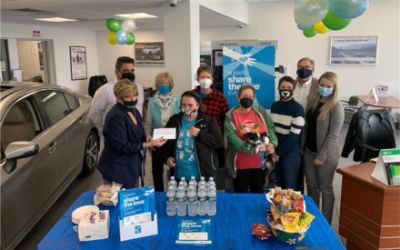 ---
Lynnes Subaru helping Bloomfield Animal Shelter - Mimi M
I am writing on behalf of the Supporters of the Bloomfield Animal Shelter Inc. (SOBAS), to thank Lynnes Subaru for all they are doing to help the animals at the Bloomfield Animal Shelter. In 2020, our nonprofit received an amazing check for over $19,000 from last year's Share the Love Program. Previous donations from Subaru programs were used to send hard-to-adopt pets to sanctuaries or training, and for designing the specifications for new cat "condos" in the Shelter's Cat Room. With this additional windfall, SOBAS will be able to fund the complete replacement of the existing outdated cat cages in the coming months. Due to COVID-19, non-staff has not been allowed in the shelter; however, once the restrictions are lifted, work will go forward! Without Lynnes Subaru's and their clients' generosity, there would not have been enough to complete the project. Despite the pandemic, the October 11, 2020 adoption event at Lynnes was a great success, thanks to the great organization and hard work of the Lynnes staff. SOBAS volunteers were limited to 1-2 at a time, and seated out in front of the building, while visitors were able to view the pets inside the showroom. Thanks to careful preparations, we were able to have an in-person event and people were able to meet the available pets. As a result of the event, fifteen applications were received for the pets who participated, and eight were adopted and have gone to their forever homes. SOBAS is very grateful for all Lynnes Subaru does every year to promote and support our organization and the animals of the Bloomfield Animal Shelter.
---
BLOOMFIELD PUBLIC LIBRARY - Cheryl L
A true example of the love for our community, and the depths of the roots which have grown from added community and volunteer involvement. All I can say is that I really hope Lynnes Auto group continues to be a pillar in our community and a beacon for hope and light!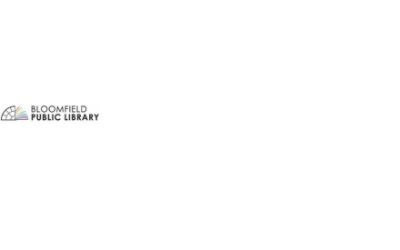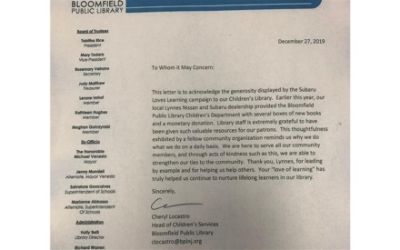 ---
Subaru Donates to Children with Cancer - Stacy K
Subaru of America, Inc. has partnered with New Jersey Chapter of The Leukemia & Lymphoma Society to bring comfort to patients at the Joseph M. Sanzari Children's Hospital at Hackensack Meridian Health Hackensack University Medical Center. Through the Subaru Loves to Care program, blankets were delivered to the children's hospital, which will be distributed to patients. Each blanket contains a "message of hope" written by a customer or employee of Lynnes Subaru in Bloomfield, NJ. In addition, the dealership donated activity boxes, which contain coloring materials that will be distributed to pediatric patients. Subaru of America, Inc. has been making charitable contributions in conjunction with its dealerships for nearly a decade. Photo from left to right: Stacy Kreizman, senior patient manager, Leukemia & Lymphoma Society, New Jersey Chapter; Lee Russeth, senior child life specialist, Joseph M. Sanzari Children's Hospital at Hackensack University Medical Center; Michael DiLeo, general sales manager, Lynne's Subaru; Wita Kaproli, executive assistant, Lynne's Subaru; Stella Kelly, owner loyalty manager, Lynne's Subaru; and Michele Rygiel, district sales manager, Subaru Distributors Corporation.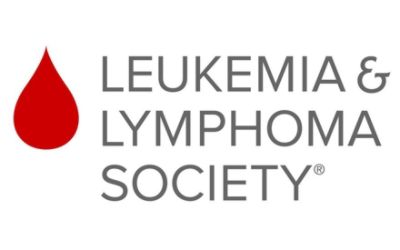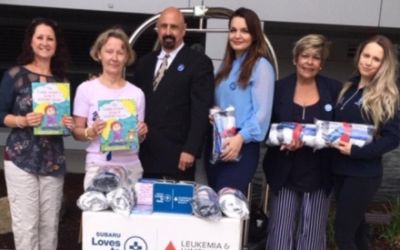 ---