The Subaru Legacy has received top marks from both Kelley Blue Book and Edmunds.com, and properly maintaining your Legacy by following its maintenance schedule is a great way to get out of the car what Subaru has put into it. Below is a brief outline of what you should do to take care of your Subaru Legacy.
Visit Lynnes Subaru, serving Bloomfield, Clifton, and Montclair, for all of your vehicle maintenance needs.
Subaru Legacy 3,000-Mile Maintenance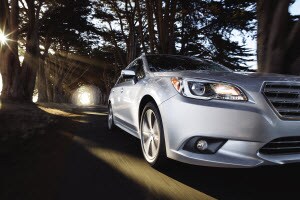 There are regular maintenance checks that need to be addressed consistently. The engine oil and oil filter need to be changed every 3,000 miles. When changing the oil, make sure that you replace your old oil filter with a genuine Subaru oil filter for the best results. And if you don't drive your car 3,000 miles in three months' time, make sure to change your oil anyway.
During the 3,000-mile maintenance, you should also check all of the vehicle fluids, inspect and set the tire pressure, and have a multi-point inspection just to make sure that everything is working correctly.
Subaru Legacy 7,500-Mile Maintenance
There are more things to make sure are operating properly at the 7,500-mile marker, including checking the oil just like at the 3,000-mile mark. It's also time to rotate your tires, inspect the brakes, check all hoses and lights, and adjust belts inside the car if necessary.
The purpose of the tire rotation is to help the tires wear evenly as they begin to turn. Right turns, left turns, and long highway drives all affect your tires differently. Along with the wear of your tires, you also have to be aware of the tread that remains on your tires. Rotating the tires ensures a safer, cleaner ride.
15,000-Mile Maintenance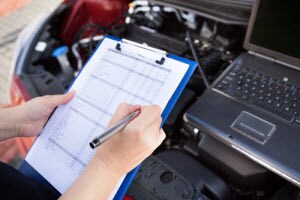 Some maintenance tasks come back around during the 15,000-mile check, like the oil change, tire rotation, and overall inspection. An emissions check also should be performed at this time.
30,000-Mile Maintenance
This mile marker really is the first major service for your Subaru Legacy, and these items should be checked every 30,000 miles thereafter. This check is imperative for making sure that your Legacy is running well. 
Among the items to take care of at the 30,000-mile mark are the following:
      
Maintain the oil level and replace the filter.
          
Inspect the brake pads and rotors along with the brake fluid.
          
Inspect the brake lines and ensure that the parking break is fully operational.
          
Check the axles.
          
Inspect the suspension and steering.
          
Replace the PVC valve and engine coolant.
          
Inspect the fuel system lines and connections.
Service at Lynnes Subaru in Bloomfield
As you can see, the cycle repeats itself as you accumulate more miles on your Legacy. The items that need to be checked every 3,000 miles don't suddenly go away because your mileage increases or you've checked something else.
For the best overall functioning of your Subaru Legacy, make sure to stay on top of the maintenance, and those of you in the Bloomfield, Clifton, and Montclair, NJ, area should be sure to visit Lynnes Subaru. Schedule a service appointment with our highly trained technicians for all of your maintenance needs.
View our current service specials.