Sedans are what most people think of when someone mentions cars. Reliable, safe and efficient, they are great vehicles for daily use and their customization options offer quite a bit in terms of comfort and entertainment. If you're in the market for a new sedan, you're probably working hard to narrow down your options. Lynnes Subaru, conveniently located in Bloomfield, New Jersey, wants to help with the decision-making process by comparing two brand new editions of popular models, the 2017 Subaru Impreza vs. 2017 Toyota Camry.
Safety Comparison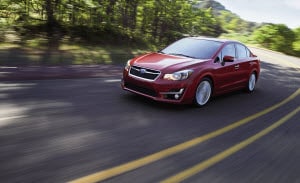 Most drivers, particularly parents, consider safety a top priority and major selling point. Of all the factors to compromise on, crash survival chances shouldn't be one of them. Subaru has proven that they are dedicated to prioritizing safety, and the latest safety updates, in their Subaru models.
[Read more about Subaru EyeSight Technology.]
Subaru Impreza Handling vs. Toyota Camry Handling
The 2017 Subaru Impreza has a bit of an edge when it comes to handling, compared to the Toyota Camry. Being slimmer, it has a narrower turning margin and can fit into smaller spaces, perfect for cramped city streets and busy parking lots. The 2017 redesign comes with a 50 percent reduction in body roll, thanks to an updated suspension. Furthermore, straight driving stability has also been increased, which is perfect for long trips on the highway. While the 2017 Toyota Camry is admittedly more powerful, drivers who require a deft vehicle will likely appreciate the Subaru Impreza and its unassuming dimensions, along with its lane keeping benefits.
Subaru Impreza Comfort vs. Toyota Camry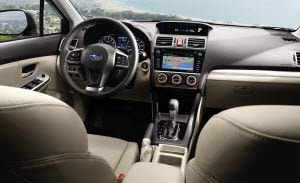 The Toyota Camry and Subaru Impreza are on fairly equal footing in terms of comfort, each having an edge in different categories. For example, the Toyota Camry offers backseat passengers a little more legroom, but the Subaru Impreza caters to taller drivers and front passengers with more headroom and legroom in the front of the car. The 2017 Subaru Impreza has a wider interior than its predecessors, meaning that new buyers are in for a more comfortable ride compared to older models. Still, driver preference is really the deciding factor when it comes to who wins the comfort challenge.
Test Drive the 2017 Subaru Impreza at Lynnes Subaru
New Jersey residents of Bloomfield, Clifton and Montclair are encouraged to schedule a test drive at Lynnes Subaru. See for yourself the impressive 2017 Subaru Impreza and learn why you should own the latest model. Plenty of other Subaru models are also available to choose from, and an experienced dealer will be more than happy help place you in a car that fits your unique driving needs. For those who prefer to call ahead and schedule a test drive, dial (888) 442-4985, or contact us online for more information.
See how the 2017 Subaru Impreza compares to the 2017 Honda Civic.