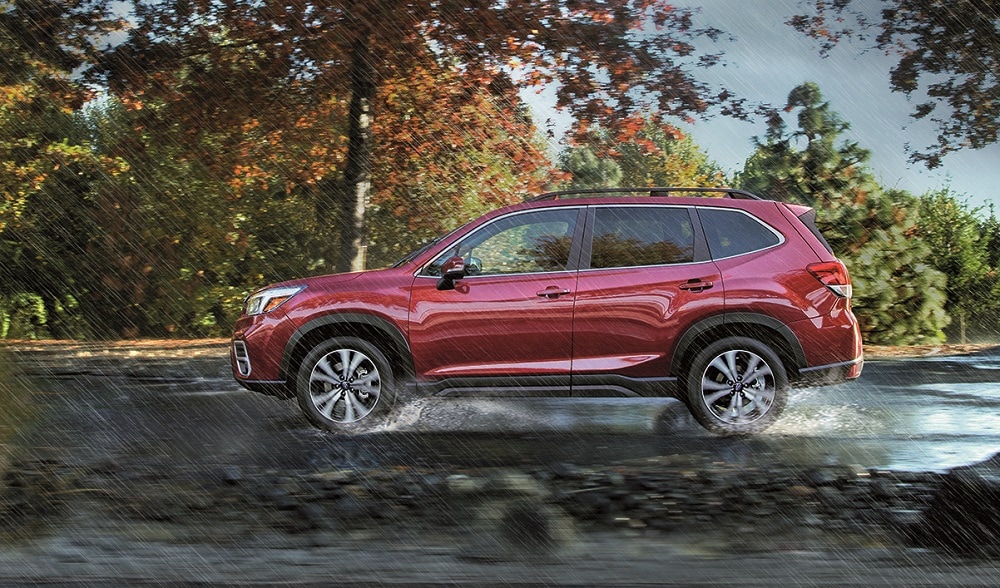 Athleticism and versatility go a long way in modern SUVs, and this article from Lynnes Subaru compares two of the most desirable models on the road, the 2019 Subaru Forester vs. Mazda CX-5.
Both sport high-end performance, comfortable interiors, and plenty of safety technologies. However, there are a few distinctions between the pair, and this comparison will help drivers around Bloomfield, Montclair, and Clifton better understand which model is right for them.
Subaru Forester vs Mazda CX-5: Safety Features
If you're like many drivers in our area, safety is a big priority when deciding which vehicle you'll drive next. The good news is, both the Subaru Forester and Mazda CX-5 take safe driving seriously. That's why they both make several technologies available that are designed to keep you more aware of your surroundings.
For example, both SUVs have an available Blind Spot Monitoring feature that alerts you to other vehicles in your side blind spots. Plus, if you begin to drift from your intended lane of travel, an available Lane Departure Warning system in both vehicles can provide an audible warning and gently steer you back in-line.
One neat feature that's unique to the Subaru Forester is the Subaru DriverFocus™ Distraction Mitigation System. This monitors your driving habits and alerts you if it senses any driving behaviors that indicate you may be too drowsy or distracted for safe driving.
Without a similar feature, drivers in the Mazda CX-5 may be less aware of when they need to take a break from behind the wheel.
Subaru Forester vs Mazda CX-5 Performance Specs
When it comes to performance specs, both the Subaru Forester and Mazda CX-5 deliver. They each come standard with a 2.5L I-4 engine with a horsepower output in the 180s.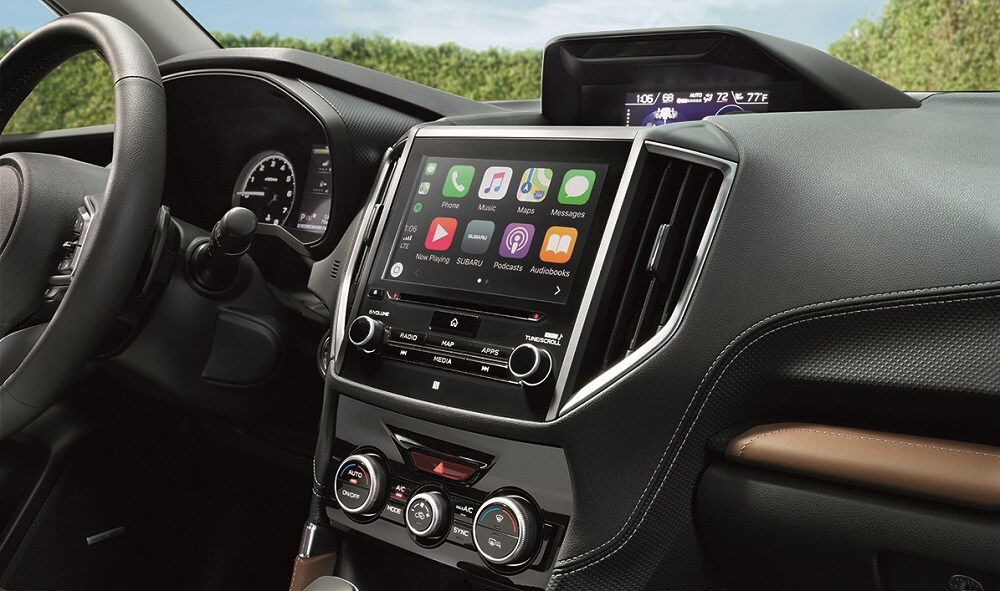 However, if you're looking to increase the time between fill-ups, the Subaru Forester may get you a bit further based on the EPA-estimated MPG ratings. The Subaru Forester gets an EPA-estimated fuel economy of 26 MPG city and 33 MPG highway with all-wheel drive (AWD) while the Mazda CX-5 gets an EPA-estimated 24 MPG city and 30 MPG highway with AWD.
Speaking of AWD, clearly both models offer it, but the Mazda CX-5 makes it available as an upgrade. Meanwhile, the Subaru Forester makes this improved traction a standard feature across all trim levels. 
Dimensions inside the Subaru Forester and Mazda CX-5
One of the many draws of driving an SUV is the interior space, of which the Subaru Forester and Mazda CX-5 have plenty to offer. They both seat five passengers comfortably with a little over 39.5 inches of legroom afforded to rear-seat passengers.
We also wanted to look at cargo space to get a clearer picture of how much luggage you can bring along on your next family getaway. We found that the Subaru Forester has more cargo space, with 35.4 cubic feet of trunk space and 76.1 cubic feet of total cargo space with the rear seat folded down.
The Mazda CX-5 only offers 30.9 cubic feet of trunk space and 59.6 cubic feet of total cargo space, so you may have to pack a bit lighter in this vehicle than you would in the Forester.
2019 Subaru Forester vs Mazda CX-5: The Best SUV for Your Area
After comparing the 2019 Subaru Forester vs. Mazda CX-5, the team at Lynnes Subaru decided that the Forester seems to have more of what drivers in Bloomfield, Clifton, and Montclair need.
To give it a try for yourself, pay us a visit and take it out for a test drive. Contact us to drive the Subaru Forester today!