The crossover SUV has become an increasingly popular family vehicle in recent years. Their unique size offers a roomy interior with ample cargo space, but without the overwhelming area of a full-size SUV. The 2017 Subaru Forester is a leader of this class. Drivers in the Bloomfield, Clifton and Montclair area looking to maximize their driving experience with this particular breed of vehicle, can read on to learn more about the 2017 Suabaru Forester's interior.
Subaru Forester Interior Space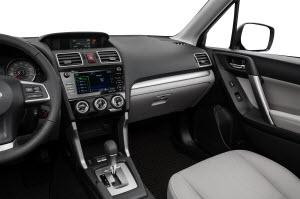 The 2017 Subaru Forester has a very spacious interior for a midsize SUV. It offers 41.4-inches of headroom for front seat passengers and 43-inches for those in the rear seat. The legroom is equally comfortable, with 39.8-inches up front and 38-inches in back. Furthermore, all the seats are adjustable, which will alter each configuration to suit individual comfort levels for your passengers.
The 2017 Forester also offers 34.4 cubic feet of storage space behind the rear seat. That number more than doubles when you put the fully collapsible rear seats down, providing you with 74.7 cubic feet of cargo space, perfect for a weekend getaway or light to moderate moving.
Interior Space for the Whole Family
One reason that crossovers are becoming more popular is their appeal to parents. Children of all ages are safe and secure in the back seat of the 2017 Subaru Forester, thanks to its attention to modern safety practices. The Forester comes standard with child seat anchors, to ensure that child seats are as secure in the seat as possible. For older children who have moved on from car seats, the 2017 Subaru Forester also has 3-point safety belts in all three seats, including the middle seat. An additional, yet often overlooked point of safety, is the rear door child safety locks. These locks prevent children (or adults) from opening the car door from the inside when activated.
2017 Subaru Forester Cargo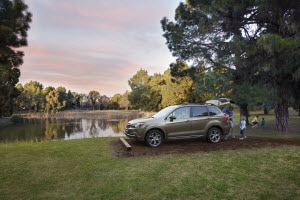 Adding to its spacious interior, the 2017 Subaru Forester has made a noticeable effort at maximizing storage space all over the interior. In addition to console and door compartments in the front seat, the Forester features seat back compartments, rear cup holders and rear door compartments. Additional options include cargo storage nets on the seat sides and behind the rear seat, as well as a cargo tray and cargo cover for the rear compartment. For parents whose back seat often looks like a mobile play pen, all of these storage and cargo options are very enticing, and necessary, features of the 2017 Subaru Forester.
Test Drive the Subaru Forester in Bloomfield, NJ
At Lynnes Subaru, our sales staff can show you in person all of the interior amenities of the 2017 Subaru Forester. Peek inside the Subaru Forester and observe our classy gray or elegant black cloth interior and see for yourself just how spacious the Forester really is. Best of all, drivers in the Bloomfield, Clifton and Montclair area can even schedule a test drive. Contact us at Lynnes Subaru today!