The new Subaru EyeSight technology is the brand's biggest leap in automotive crash prevention since they created Symmetrical All-Wheel Drive, according to the Subaru EyeSight website. And looking at all of the technologies included, we'd have to say that we agree. EyeSight is more than just an available safety feature; it's a way for you to put the safety of you, your passengers, and other drivers on the road first.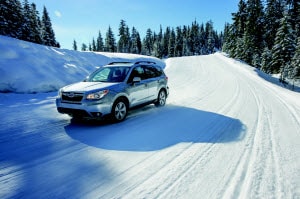 According to the Subaru website, the 2015 Subaru Forester, which has been equipped with this technology, got a Superior rating from its Insurance Institute for Highway Safety performance test. The system includes Pre-Collision Warning, Pre-Collision Braking, Pre-Collision Throttle Management, Lane Departure Warning, and Adaptive Cruise Control in its suite of features. We've outlined just some of what the system has to offer below.
Adaptive Cruise Control
The EyeSight system is like having an incredibly aware co-pilot driving with you. The system in your 2016 Subaru Forester will help you to keep a safe distance from the vehicle in front of you while you're using Adaptive Cruise Control. That way, if the vehicle in front of you slows, your vehicle will automatically slow as well. All you need to do is set up your preferred following distance and speed, and EyeSight will do the rest.
Lane Departure and Sway Warning
It's easy to forget how tired you are during the early morning commute around Bloomfield, Clifton, and Montclair or on those late night drives home from a dinner date. But with Lane Departure and Sway Warning in the 2016 Subaru Forester, EyeSight will keep an eye on your driving habits to make sure that you stay in your lane at all times.
Pre-Collision Braking
Not all front impacts are unavoidable, but EyeSight can help reduce the effects of a collision by applying pre-collision braking power. By monitoring what's going on ahead of you at all times, EyeSight will detect a potential collision and apply braking if necessary in an effort to avoid the collision. If it's unavoidable, EyeSight will apply full braking force to minimize the effects as much as possible.
Pre-Collision Throttle Management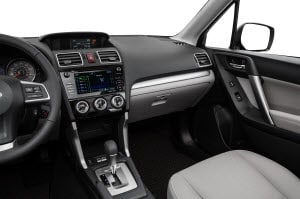 Similar to Pre-Collision Braking, the Pre-Collision Throttle Management technology is designed to minimize the risk of a front-end collision whenever possible in your 2016 Forester. EyeSight keeps an eye on what's going on in front of you and can detect a potential collision. The system will automatically reduce the power from the engine if a potential collision is detected to minimize the impact force as much as possible.
EyeSight Technology in the 2016 Subaru Forester
 The 2016 Subaru Forester is offered with the Subaru EyeSight technology. The vehicle is now available at your local Subaru dealer near Montclair, Clifton, and Bloomfield. Lynnes Subaru offers a huge inventory of new, used, and certified pre-owned vehicles for you to choose from. Our highly knowledgeable sales team members will be happy to show you how the EyeSight technology works and assist you through the entire car buying process.
Stop by our showroom at 379 Bloomfield Avenue in Bloomfield, NJ, to see the 2016 Subaru Forester up close and in action. Or give us a call now at 888-442-4985 to schedule a test drive today.