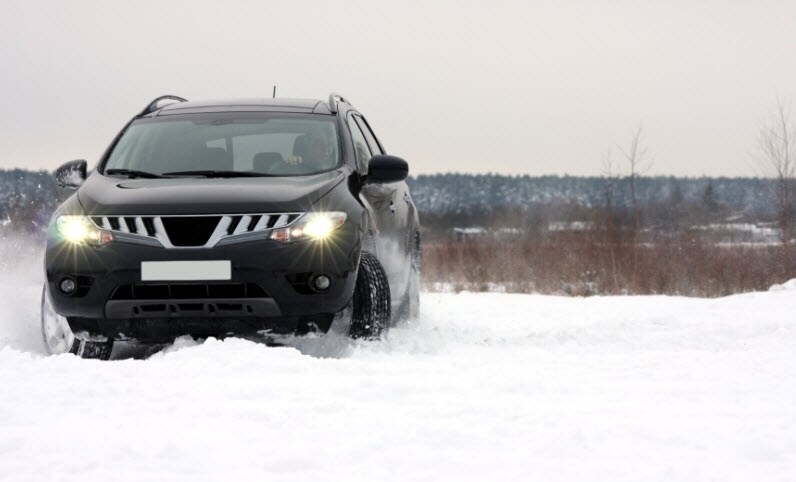 Your Subaru vehicle can have one of three basic tire types: summer, winter or all-season. Most Subaru models come equipped with all-season tires, and you'll find these vehicles also come standard with all-wheel drive. While all-season tires are made to perform adequately in all weather conditions, they simply aren't the best option for winter driving. 
So what's the best option for maximizing traction in winter driving conditions? Let's look at the differences between snow, summer and all-season tires to find out. 
Snow Tires
They're designed to provide maximum traction, so they're made differently than all-season tires. The material from which snow tires are made is much softer compared to all-season tires, which allows the tread to spread out and better grip the road in ice and snow. 
If you've ever done yoga, you know the difference that spreading your fingers can make when doing the downward dog pose. Imagine that the same thing happens with your tires. The treads (fingers) fan out and make gripping the slippery road (the mat) much easier. 
Additionally, snow tires have deeper tread wells, which allow water to flow between the treads even if it's deep. The treads also are further apart compared to all-season tires to allow slush and snow to squeeze between and out of the treads. There are also almost spidery-looking zig-zag lines in the treads that allow the treads to spread out, increasing the surface area gripping the road.
There are several great snow or winter tire options on the market today. One option is the Goodyear Ultra Grip line of winter tires. These tires offer incredible traction especially on snowy roads, but they don't sacrifice handling and ride quality on regular roads. Another option is the Michelin X-Ice Xi3 that is also quite impressive in snow and ice. These tires offer optimal traction and handling in especially cold conditions, but the amount of moisture on the roads is somewhat inconsequential.
All-Season Tires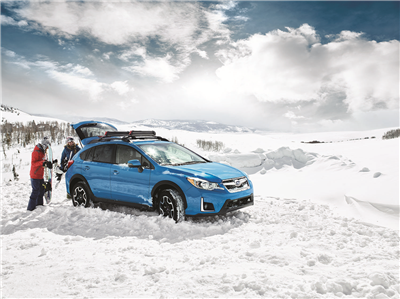 These tires come standard on most Subaru vehicles and are designed to drive well in all conditions. They generally have midlevel tread, a medium-hardness composite material and a variety of tread spacing configurations.
All-season tires are designed to provide great fuel economy, so they're good for driving in spring, fall and summer weather conditions. However, they won't help much when you're trying to parallel park in Montclair, Clifton, and Bloomfield between a pile of snow and another car. These tires are designed to provide maximum traction and handling quality as well as optimal fuel economy in a variety of mild weather conditions.
There are plenty of excellent all-season tire options available on the market today, and most likely your Subaru vehicle comes standard with this kind of tire. Michelin Premier A/S is an excellent option; however, they are quite expensive. These tires offer outstanding grip, especially on wet roads and last much longer than many of the competitors. Another excellent option is the Perelli Cinturato P7 All-Season PLUS tire that is designed for high performance. Depending on what type of Subaru vehicle you're purchasing tires for, these may be a good option for you.
Summer Tires
Designed to withstand the high heat of hot summer roads, summer tires are designed for maximum traction and fuel efficiency. Made of a harder material than even all-season tires, summer tires can withstand high speeds and high heat, and are one of the most efficient options for those who drive long distance in summer.
These tires, however, are not the best for driving in cooler temperatures or in snow and ice. The harder composite of these tires quickly becomes brittle in lower temperatures giving them minimal traction and making them an unsafe choice.
When it comes to choosing summer tires, there are a seemingly endless number of options for you to choose from. Like any option, choosing the tires that work best for your Subaru vehicle really depends on your budget, seasonality needs and why you're looking for summer tires. For maximum efficiency and performance, consider the Michelin Pilot series that offers a variety of tires for many different vehicle types. The Goodyear Eagle F1 line is also an excellent cost-efficient option for those looking for the longevity and security that comes with purchasing a well-known brand.
The Difference
Snow and all-season tires have different uses and varying performance levels depending on the road conditions. All-season tires are designed to be driven year-round, but they're not great in snowy or cold conditions. Similarly, summer tires are excellent for high temperatures but quickly lose traction in cooler temperatures and climate. All-season tires are made to be driven in typical weather conditions, but since they're made for every condition, they aren't perfect specifically for winter weather. 
On the other hand, driving on snow tires in warmer conditions can damage the tires because they're made of softer material. You'll also notice that winter tires are a bit loud on the road in the spring and summer because they have a higher contact area compared to all-season and summer tires. They'll also be slightly less fuel efficient under typical driving conditions compared to all-season tires. 
Shop for Tires
Overall, the tires that you choose for your Subaru vehicle truly depend on your wants, needs and budget. If you're looking for a good tire that you don't have to think about all year long, an all-season tire is definitely your best bet. If, however, you're interested in enhanced performance, increased fuel economy and the best traction and handling available, then a seasonal tire option will definitely be your best bet. Buying new tires is definitely an investment, but it's an investment worth making if you want to get the most out of your Subaru vehicle.
When you're ready to shop for your next set of tires, visit your local Subaru service center at Lynnes Subaru. Lynnes Subaru is conveniently located at 379 Bloomfield in Bloomfield, New Jersey. Our service department is available for service Monday through Friday from 7:30 am until 6:00 pm and Saturday from 7:30 am until 4:00 pm.