Vehicle maintenance is essential for keeping your car in top shape. It's important to schedule routine maintenance checkups for your car to ensure its performance.
During a maintenance check, the mechanic will inspect all areas of your car, including your brakes. The brakes are a vital component of your vehicle and how often you change your brake pads can vary based on your driving habits.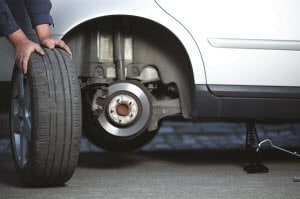 If your brake pads need to be replace, your car will be deemed unsafe to drive. It's important that you learn about when to replace the brake pads in your vehicle.
How Often to Change Brake Pads?
Your brakes use a hydraulics system to stop the vehicle. A hydraulics system is comprised of pipes that use fluid to increase pressure and distribute it throughout the vehicle. Brake pads use this force to pressure the brake rotor and stop the vehicle. The force and weight of the vehicle eventually wear down the brake pads, indicating that they should be changed or replaced.
Typically, brake pads should be replaced every 25,000 to 70,000 miles, depending on driving habits. Your car normally has four to eight brake pads that work in conjunction with the rotors. Brake pads vary in size, and some can be 3 millimeters thick or thinner depending on the make and model of the vehicle. Thicker brake pads last longer, but there's normally a mileage limit for replacement. Brake pads need to be changed every 30,000 to 35,000 miles.
How to Check Brake Pads
Advanced technology cars usually give a warning that the brake pads need to be replaced. These vehicles normally have sensors that can determine the density of the brake pads. Brake-warning lights will also go off in your vehicle if your brake pads are low.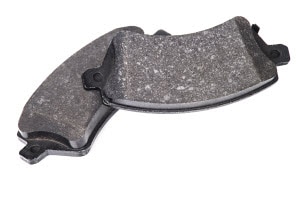 Other signs include screeching or grinding noises when you press on your breaks, your steering wheel pulsates or vibrates when you drive, and your brake pedal must be push low to the floor in order to stop.
What Are Brake Pads Made Of?
In the past, most brake pads were made of asbestos. Brake pads absorb a lot of friction and heat, and asbestos was a material known to be able to withstand these elements.
However, due to the health concerns regarding asbestos, other materials such as ceramic and metal are now used. Ceramic and metal brake pads aren't made of pure ceramic or metal; they're compounds made of a variety of fillers and metals.
Replace Your Brake Pads with Help from Lynnes Subaru
If you suddenly see your brake light come on or notice any of the other signs that you make need to take care of your brakes, contact your mechanic immediately. Mechanics normally check your brakes during your 12-month routine maintenance visit. All four to eight brake pads don't have to be replaced at once, but pads do get replaced in pairs.
Drivers in the Bloomfield, Clifton, or Montclair area should come to Lynnes Subaru to get their brakes fixed. Our team specializes in quality service, and we'll be able to properly assess any brake problems you may be experiencing with your Subaru.
We understand the wear and tear that vehicles in the Montclair, Clifton, and Bloomfield, NJ, area experience and we're here to help! Contact Lynnes Subaru now to schedule an appointment.
View our current service specials.