Your vehicle's transmission is an integral part to your vehicle. In short, the part works to transfer the power from your gas pedal to your wheels to let them know how fast you want to go. Without this part, that information would never get to your wheels and you wouldn't go anywhere fast. For this reason, it's important that you keep your transmission healthy.
Preventing a transmission problem is as easy as coming to your local Subaru service department at Lynnes Subaru for your regular maintenance. We offer all of the service you need to keep your transmission running smoothly.
Additional Transmission Resources:
5 Most Common Transmission Problems
What does a Failing Transmission Sound like?
Transmission Service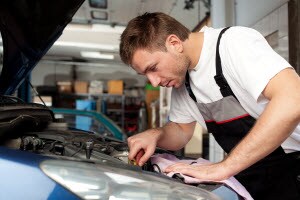 When you bring you vehicle to the service department at Lynnes Subaru for a transmission service, we'll make sure the part is running smoothly. We use advanced diagnostic techniques and plain old attention to detail to do our inspections. We'll also look at the transmission fluid to make sure it's clean and topped off. 
If the transmission fluid isn't clean or isn't to the correct level, we'll recommend remedying that as soon as possible. Dirty transmission fluid-or any dirty fluids for that matter-can wreak havoc on your vehicle. Not only will it cause engine damage, but it simply won't do what it needs to do at the level that you want. This means you'll need to invest more money into keeping your vehicle running smoothly.
Service Your Transmission at Lynnes Subaru
When you bring your vehicle to the professionals at Lynnes Subaru, we'll work hard to make sure everything is running smoothly. We won't just look at your transmission for signs of transmission failure, we'll also look at the whole vehicle and let you know if we see anything that you should be worried about. At Lynnes Subaru, your safety and the health of your vehicle are our top priorities. 
Bring your vehicle to the service department at Lynnes Subaru for your next transmission service. The service department at Lynnes Subaru is located at 379 Bloomfield Avenue in Bloomfield, NJ. Give us a call at 888-876-4032 or visit us online to schedule a service appointment today.