Subaru's high-end technology offering is called STARLINK™. If you live in the Bloomfield, Clifton, or Montclair areas, learn about Subaru STARLINK™ technology, the features it offers, and how it improves your overall driving experience.
Subaru STARLINK™ Technology 
 STARLINK™ is Subaru's name for its vehicle infotainment platform. It offers the very best in technology, entertainment, safety, and telematics features to the driver and passengers. In 2016, Subaru began upgrading all vehicle makes with enhanced STARLINK™, offering 4G LTE and Wi-Fi Hotspot connectivity, as well as an outstanding suite of new safety features. Subaru STARLINK™ technology is your all-inclusive package for a refined vehicle experience.
Connectivity and Safety Features
STARLINK™ through Subaru offers a range of outstanding safety and connectivity features, which continue to be upgraded and spread across the manufacturer's entire range of vehicles. The technology features include integrated 4G LTE connectivity to allow passengers to access the Internet with their mobile devices while on the go. In addition, safety features like theft recovery, automatic collision alerts, smartphone vehicle controls, and regular diagnostic information about your vehicle's health are all part of the total technology package.
Raising the Bar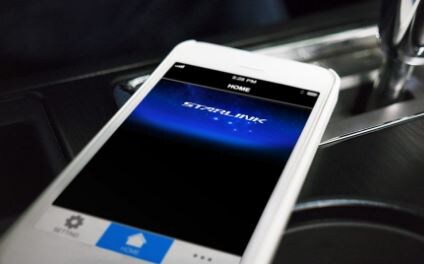 With the new STARLINK™ package, Subaru is taking the lead and raising the bar across the board. The new dashboard technology by Subaru creates a new standard for an intuitive, easy-to-use and high-functioning technology interface that works much like your mobile devices.
Even better, it allows you to integrate your Android or iOS device right to the infotainment system via Bluetooth® connectivity. This lets you use STARLINK™ to access your smartphone apps in the car.
Whether it's internet radio via iHeartRadio and Pandora, your calendar, news applications, or a variety of other apps, you'll still have them right at your fingertips. Add a GPS navigation system with voice commands, and you've got an outstanding all-in-one package (where everything is accessed via a 7-inch capacitive touchscreen).
The Latest Safety and Security Features
Starting in the 2016 model year, Subaru began adding the latest in high-end security and safety to its STARLINK™-enabled vehicles. In 2017, these features will only be upgraded and updated even more. Here are just a few of the outstanding features available in STARLINK™ vehicles:
Collision Notification: When you're involved in a crash, your vehicle automatically notifies STARLINK™ to send first responders.

Emergency Roadside Assistance: Just push the "SOS" button overhead and be instantly connected to a STARLINK™ advisor anywhere in the United States. Pressing the blue "i" button sends roadside assistance to your GPS coordinates.

Theft Recovery System: This helps the police and STARLINK™ track your vehicle, should it ever be stolen, so you can get it back.

Remote Control: Control your vehicle from your smartphone or desktop computer!

Diagnostic Reports: Not only does STARLINK™ monitor your vehicle for problems, it sends an email when one is detected, telling you how to resolve the problem.
Subaru STARLINK™ technology is the wave of the future for infotainment, safety, and telematics systems. If you live in the Clifton, Bloomfield, or Montclair areas, stop into Lynnes Subaru for more information today!
Content edited with HTML converter powered by 4html.net