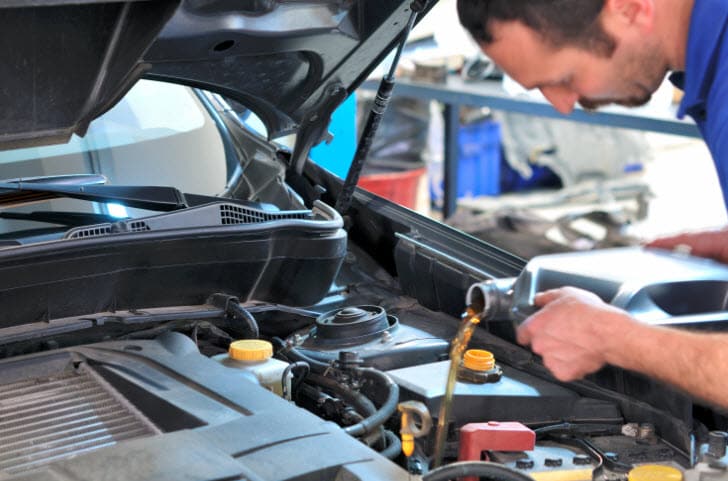 It's easy to forget the importance of regular vehicle maintenance, but changing the oil is one of the simplest, most essential ways to enhance your Subaru vehicle's performance and increase its lifespan. While the general recommendation is that you should change your oil every 3,000 miles, newer vehicles can keep the oil churning for 4,000 to 6,000 miles. In fact, according to Complex Rides, some extended-range oils can last for 10,000 miles, but ultimately you don't want to take any chances with your Subaru's well-being.
With such a wide range of recommended mileages, how do you know the ideal time for an oil change? The easiest way is to look for these five signs that the oil in your Subaru has gone bad. Understanding these signs is a good way to keep up with your oil service and make your Subaru last for a long time.
The Oil Is Black and Gritty
New oil is the color of honey, but after just a few weeks of use, it begins to turn dark. This color change is acceptable, but as soon as you see particles mixed in with that darker-colored oil, it's time for an oil change. These particles can get stuck in your engine and overwhelm your oil filter, which will result in clogging and unnecessary buildup. Have your oil changed before this becomes a problem.
The Engine Runs Loudly
Oil is an engine lubricant, preventing parts from grinding against one another. The dry friction of the constantly moving parts gives off a metallic grinding sound. If your engine begins to run louder and makes abnormal and unpleasant noises, don't delay that oil change any longer or your Subaru could suffer serious consequences.
You Can't Recall the Last Time Your Subaru Had an Oil Change
It's important to establish a predictable oil change schedule. If you can't remember when you last took your Subaru for an oil change, have the fluids swapped out and make a note of it somewhere. Write "oil change" on the calendar three months from today's date or set an alarm on your phone to remind you when it's time to change it again. Keeping up with your oil service is crucial for the overall health and well-being of your Subaru.
Depending on where you take your Subaru, the automotive technician may put a sticker on your windshield with the date and your car's mileage along with a recommended date to have the oil changed again. This serves as a strategically placed reminder since you probably only think about having the oil changed when you're in your car.
Low Oil Level
It's ideal to lift the hood and check your oil level every month or two when you fill up on gas. If the oil level has dropped below the recommended level since the last time you checked, it could be a sign that the oil needs to be changed, especially if you drive a high-mileage Subaru. After all, engines slowly burn through motor oil, so a low level could indicate the engine lubricant has been in service for a quite a while.
Depending on which model Subaru you have, a low oil indicator light will illuminate. If this happens, then you should schedule an oil change as soon as possible.
The Check Engine Light Comes On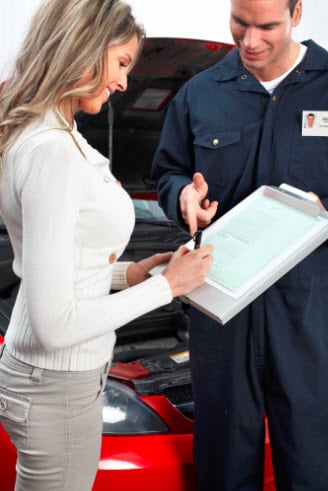 The oil gauge or check engine light could pop on if something is wrong with the engine lubricant. Before you waste your time checking other more complicated parts of the engine, start with the dipstick. You may simply be low on oil.
If this trend continues, take your Subaru not just for an oil change but also to check for an oil hose leak. A leaky hose will cause your oil to drain rapidly, so staying on top of maintenance is key to catching a problem like this early so it doesn't create serious complications down the line.
What Happens When You Neglect to Have Your Oil Changed
You shouldn't go over your model's recommended oil change mileage. If you do, several things can go wrong with your car. With dirt and particles constantly being introduced into your oil, your filter will eventually clog and the particles will have nowhere to go. Your oil will become thicker and have a more sludge-like consistency. This will result in more-than-usual wear on your engine.
The oil is not only a lubricant for the constantly moving metal parts, but it also contains several other ingredients, such as detergents and rust preventative chemicals. These chemicals can eventually wear out if you neglect to change your oil, which will result in unnecessary buildup of dirt and prohibit your oil from lubricating your engine parts properly.
Luckily, oil lasts for a decent amount of time, and if you miss your recommended oil change date/mileage, it won't destroy your car. However, you should prepare to have your oil changed when the suggested date or mileage is approaching.
Where to Go to Have Your Oil Changed
With this common automotive service, you want to go somewhere reliable. At Lynnes Subaru, we pride ourselves on our ability to provide you not only with exceptional quality cars but also with useful information to help you get the most from them.
Our team of trained technicians can assist you with this common service, and they'll even supply you with a guideline as to when are the best times to have your Subaru's oil changed. Let us help you keep your Subaru happy and healthy.
Do you need your oil changed? Give us a call or stop by our service department and we'll happily assist you!
Lynnes Subaru is conveniently located at 379 Bloomfield Avenue in Bloomfield, NJ. Our service department is open Monday through Friday from 7:30 am to 6 pm and Saturday from 7:30 am to 4 pm. Schedule your next oil change with us today!