For those seeking a more environmentally-friendly vehicle, many turn to Subaru for their commitment to produce not only cars that are thoughtfully designed with both the environment and the driver in mind, but also that are manufactured and sold at locations that are also environmentally-friendly. Featuring the newest green technology and eco-conscious business practices, Subaru is a proud partner with Leave No Trace and the Geological Society of America, remaining one of the most eco-active car manufacturers to date.
Here's a look at some of the green technology and eco-friendliness at Subaru:
Updated Engine
Producing little emissions is a big concern at Subaru. Utilizing a perfected "boxer" engine, all Subaru vehicles meet the EPA Tier 2 Bin 5 standard, guaranteeing the least amount of emissions possible. Some of Subaru's vehicles feature a naturally-aspirated engine, and even qualify for a lower-bin standard with fewer emissions. While all Subaru vehicles are certified nationwide and meet the CARB LEV II standards, several models ~ such as the 2015 Subaru Legacy, even qualify for PZEV standards. PZEV, or Partial Zero Emissions Vehicle, means that these models are equipped with gas-efficient engines producing no evaporative emissions. Other models qualify for Super Ultra Low Emission Vehicle, or ULEV2. All Subaru engines are equipped to be both powerful and green.

Recycled Parts
Subaru focuses many efforts on recycling as many parts as possible for both the interior and exterior of the car. When any Subaru is built, many of the recycled parts from an older Subaru will be used for the new car, such as floor covers and trim. The interior padding and upholstery of a new Subaru features recycled fabrics such as clothes, textiles, and carpeting. Many other parts of your new Subaru may be recycled, such as plastics for bumpers and mirrors. With an astounding 72% recycling rate, Subaru stands out as one of the most responsible car manufacturers.
Gas Mileage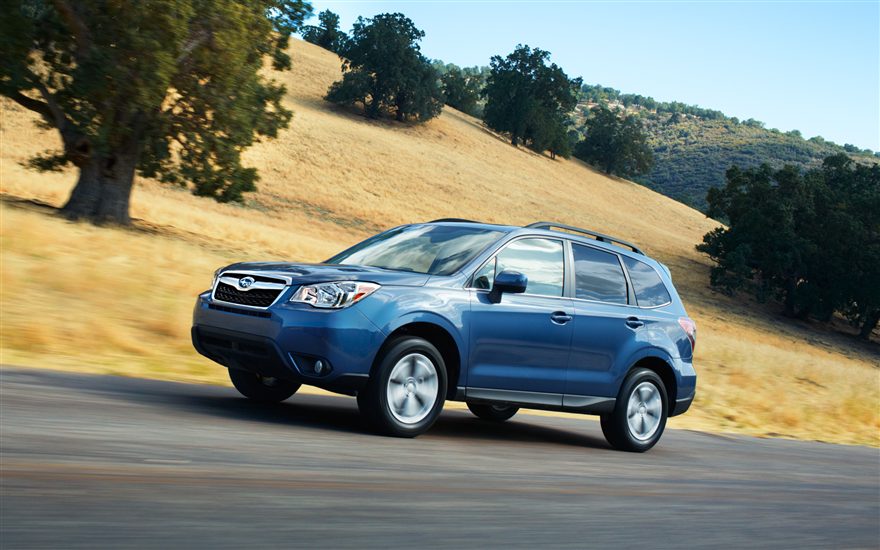 Featuring impressive gas mileages such as a 25 city/33 highway mpg on the all new 2014 Subaru Outback, Subaru engines feature an economical all-wheel drive that also supports secure handling while driving. With an all new SI-DRIVE options, three modes of operation for Subaru engines can be chosen. Super Sport and Sport modes offer smooth performance at any speeds, allowing faster acceleration and greater power. Employing the latest green technology, Intelligent mode can be activated to enhance motor control and responsiveness, while operating in a more eco-minded manner. All Subaru engines boast powerful engines backed by a great gas mileage.
Eco-Conscious Business
While incredibly important to make sure that not only their cars are environmentally friendly, Subaru also ensures that their entire business runs as ecologically-efficient as possible. With their plants producing as little waste as possible, offering sanctuary to wildlife, and turning waste into energy for reuse, Subaru stands out as a clear frontrunner for eco-friendly car production.
Offering the best in both functional and future-minded design, teams at Subaru purposefully focus on creating the absolute best vehicle for the absolute best value. For those looking for the most powerful vehicles applying the latest green technology, look no further than Lynnes Subaru, New Jersey. Located at 379 Bloomfield Avenue, this premier Subaru dealership is proud to serve the Montclair, Bloomfield, Kearny, Belleville, and Nutley areas. Lynnes Subaru has everything to offer from brand new hybrids to certified pre-owned vehicles. Staffed by knowledgeable teams, Lynnes Subaru is open between the hours of 9 AM to 9 PM (7 PM on Saturdays; closed Sundays). Stop by to see how an eco-friendly dealership operates and to schedule a test drive in one of the nation's most eco-conscious cars.