Buying a new vehicle is always a big undertaking, especially when it comes to doing your research. You want the best technical specifics for your eventual decision, but you also can't let go of your personal preferences in terms of aesthetics.
The 2016 Subaru BRZ and the 2016 Scion FR-S have many similar features-sleek, low-to-the-ground appearances, lightweight bodies, and advanced safety controls, for instance. However, these two sports cars have less in common upon further inspection.
To help determine which will be the right option for you, Lynnes Subaru in Bloomfield, NJ-serving the regions of Bloomfield, Montclair, and Clifton-has put together the following vehicle comparison. Make an educated decision when picking the right vehicle for yourself.
Subaru BRZ vs. Scion FR-S Interior Space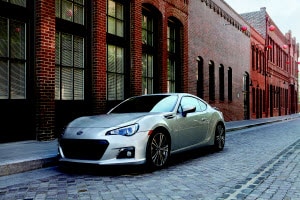 The 2016 Scion FR-S offers an engaging sports car design using adequate materials and providing sufficient legroom and headroom. However, most drivers would find the cockpit of similar sports car models more fulfilling since the rear seats and trunk space provide almost no additional room.
The 2016 Subaru BRZ features a center-mounted analog tachometer and digital speedometer, a design choice perfectly attuned to the driving experience. The heavily bolstered sports seats are also ideally positioned for that specific connection drivers want from a sports car.
The red accent stitching on the seats, steering wheel, shifter boot, and emergency brake handle give that just-subtle-enough touch to set this car apart from the pack.
Performance of the Subaru BRZ and Scion FR-S
The Subaru BRZ's 2.0-liter four-cylinder engine generates 200 horsepower and 151 lb-ft of torque. The car's standard transmission is a six-speed manual, though you can opt for a six-speed automatic transmission.
The BRZ gets an EPA-estimated 22 city/30 highway mpg with the manual transmission. With the automatic transmission, the mileage is even better at 25 city/34 highway-quite good for a sports car.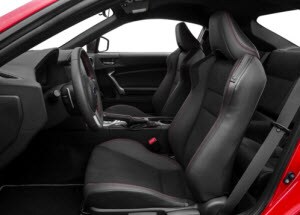 Though the specifics for the Scion FR-S' performance and fuel economy are similar, reviewers on sites like Kelley Blue Book have noted its stiff suspension that makes it harder to tackle bumpy roads.
With the 2016 Subaru BRZ, however, you get the benefit of the unique SUBARU BOXER® engine. Pistons cancel out each other's vibrations by moving side to side, allowing it to easily take on imperfect road conditions and making for a more fun driving experience.
2016 Subaru BRZ Safety Comparison  
Though both models showcase safety at the forefront of the design, the Subaru BRZ and the Scion FR-S come with many similar, great features in terms of safety specifications:
      
Driver, passenger, side head, rear head, and side airbags
          
Four-wheel anti-lock brakes
          
Four-wheel disc brakes
          
Brake Assist
          
Electronic Stability Control
          
Daytime running lights
          
Traction Control
In addition to all of these features, the 2016 Subaru BRZ offers auto-leveling headlights, so it delivers slightly more peace of mind in terms of passenger safety.
2016 Subaru BRZ Verdict
While both the 2016 Subaru BRZ and the Scion FR-S offer similarities in sports car design and fuel economy, the BRZ outshines the FR-S thanks to its smoother driving experience, driver-oriented interior design, and additional safety features.
Bloomfield, Clifton, and Montclair area drivers can experience the 2016 Subaru BRZ themselves at Lynnes Subaru of Bloomfield, NJ. Start your search by scheduling your test drive of the 2016 BRZ today!