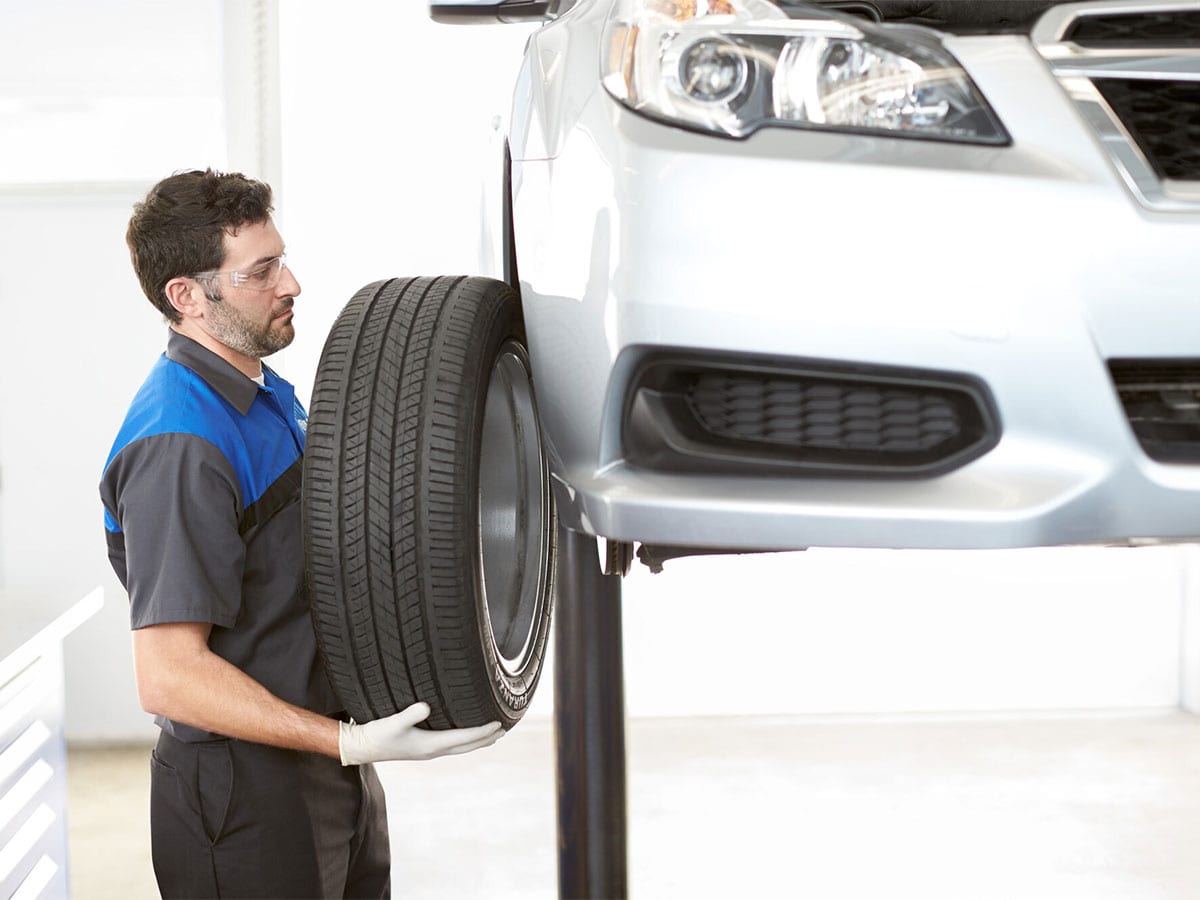 Tire Tread & Pressure Check Service in Bloomfield, NJ
At Lynnes Subaru in Bloomfield, NJ, we understand that routine tire maintenance is necessary to help provide you with the smoothest driving experience, maximum tire life, and reduced operating costs. One of the best ways to stay on top of your tires' condition and performance is with regular tire inspection by a factory-trained technician. When it comes to your Subaru's tires, it is an excellent idea to have the tires inspected routinely with an emphasis on remaining tread life and pressure. If you simply want to gain peace of mind knowing the condition of your tires or if you are experiencing any warning signs of a tire problem, we can provide you with a quick and reliable fix at Lynnes Subaru Service Center in Bloomfield near Newark, Clifton, and Jersey City, NJ.
Warning Signs of a Tire Problem
Tires are the only point on a vehicle that touches the road, which makes them vital comfort, efficiency, reliability, and safety components for your much-needed source of transportation. There are very few vehicle components as vital as your tires. If you start to experience any warning signs of a tire problem, it will always be wise to schedule service, and get a professional to look at your tires promptly. Here are some warning signs of a tire problem:
Tires have balding or bald spots
Exposed tire cords
Sidewall has cracking, bulges, or gouges 
Car shakes at speed 
Tires beyond the tread wear warranty 
Tread worn down to the warning bars 
Tires losing pressure requiring repeated inflation
Lynnes Subaru Tire Services
Service begins with a factory-trained technician that understands your car, tires, and service needs inside and out. The technician evaluates tire tread using a proven protocol that tells you exactly how much life remains. If the tires could benefit from a tire service, such as alignment, balancing, or rotation, we can get that done for you quickly and conveniently. The technician will also check each tire's pressure and adjust as needed to restore factory specifications. Gain peace of mind with tire tread and pressure check from Lynnes Subaru because we will do everything necessary to ensure that your tires are at peak performance, reliability, and safety.
Lynnes Subaru Service Center
There are quite a few reasons to trust Lynnes Subaru of Bloomfield with your tire tread & pressure check service. First, we are proud to be a family owned and operated business with a history of helping Newark, Clifton, and Jersey City drivers with all of their vehicle repair needs. Second, we utilize genuine Subaru parts and our technicians are highly trained and experienced. Ready to learn more about having your tire's tread & pressure checked? Talk to our team of experts at Lynnes Subaru today to schedule a vehicle service appointment.
---
Dealer Wallet Service Marketing & Fixed Ops SEO by
Service Hours
Monday

07:30am - 06:00pm

Tuesday

07:30am - 06:00pm

Wednesday

07:30am - 06:00pm

Thursday

07:30am - 06:00pm

Friday

07:30am - 06:00pm

Saturday

07:30am - 04:00pm

Sunday

Closed