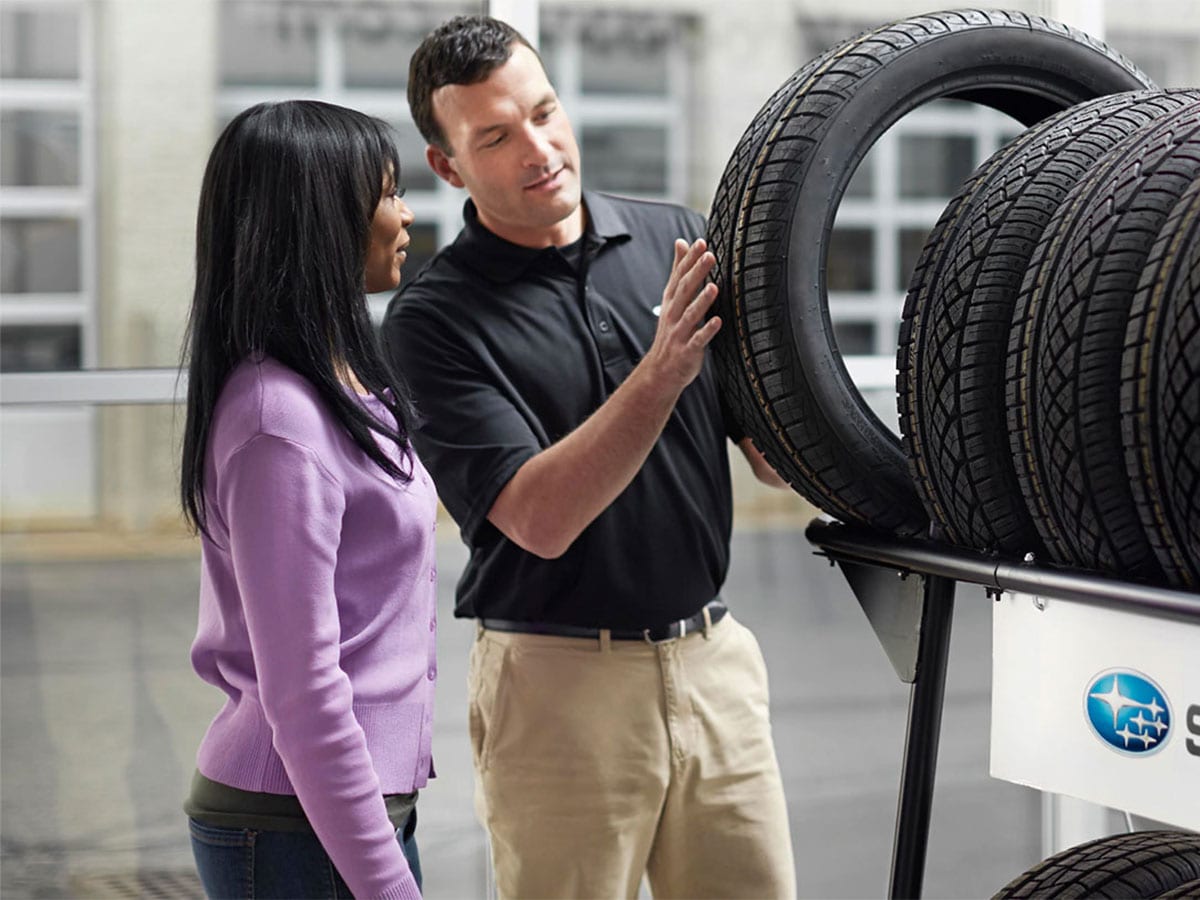 Tire Patch & Repair Service in Bloomfield, NJ
At Lynnes Subaru, we are always seeking out new ways of helping our customers extend the life of their vital vehicle components while also reducing operating costs. If we achieve these goals, we can then pass on to our customers the most service value possible. When it comes to tire damage, an excellent way of getting the most value out of your tire investment is tire patch and repair service for qualifying punctures. We don't believe that accidentally hitting a nail or screw should cost you more of your hard-earned money than it should. If your Subaru has a tire with a small puncture, we invite you to Lynnes Subaru to get your tire patched or repaired to restore peak performance and factory specifications.
Does my Damaged Tire Qualify for Tire Patch & Repair? 
Tire Patch & Repair is strictly for minor punctures and cannot restore more substantial damages. It is important to note that Tire Patch & Repair Service has been approved by relevant regulatory authorities such as the National Highway Traffic Safety Administration (NHTSA) and the U.S. Tire Manufacturers Association. We follow the specified protocol approved by these authorities. Here are the physical tire conditions that qualify your tire to be repaired: 
The puncture must measure at a ¼ inch in diameter or less
Cannot fix a puncture greater than a ¼ inch in diameter
Damage must be located on the tire tread and not on the sidewall
Sidewall damages do not qualify
Tire Patch & Repair Service Protocol
At Lynnes Subaru, we follow a strict service protocol approved by the National Highway Traffic Safety Administration and the United States Tire Manufacturers Association. The puncture is isolated with any remaining obstructions removed. The puncture is plugged and sealed by the tire patch, which prevents air pressure from escaping just like a brand new tire. Rest assured that the service will not only restore a punctured tire, but it will save you money in tire replacement costs.
Lynnes Subaru Service Center
There are quite a few reasons to trust Lynnes Subaru of Bloomfield with your tire patch & repair service. First, we are proud to be a family owned and operated business with a history of helping Newark, Clifton, and Jersey City drivers with all of their vehicle repair needs. Second, we utilize genuine Subaru parts and our technicians are highly trained and experienced. Ready to learn more about having your tires patched & repaired? Talk to our team of experts at Lynnes Subaru today to schedule a vehicle service appointment.
---
Dealer Wallet Service Marketing & Fixed Ops SEO by
Service Hours
Monday

07:30am - 06:00pm

Tuesday

07:30am - 06:00pm

Wednesday

07:30am - 06:00pm

Thursday

07:30am - 06:00pm

Friday

07:30am - 06:00pm

Saturday

07:30am - 04:00pm

Sunday

Closed