At Lynnes Subaru, we not only pride ourselves on our commitment to our customers and how we care for them but also on our impact on the New Jersey community. Our philosophy revolves around the idea that our Subaru dealership is more than just glass and concrete; we're an active member in the community, and we believe being a good neighbor is important. That's why we're happy to celebrate our annual Pet Adoption Day!
From 11am to 3pm on Saturday, November 5th, the Bloomfield Animal Shelter/John A. Bukowski Shelter for Animals, a no-kill animal shelter in Bloomfield, will be on site at Lynnes Subaru to help you find your new best friend. They'll have cats and dogs looking for a forever home as well as forms for those looking to pre-qualify for pet adoption. This is the time of year when shelters get packed beyond capacity with surrendered, lost, and abandoned animals. Fostering and adopting is a great way to get involved and help alleviate the pressure and stress not only for our four-legged friends, but also for the shelter volunteers and staff who work so hard to make a difference.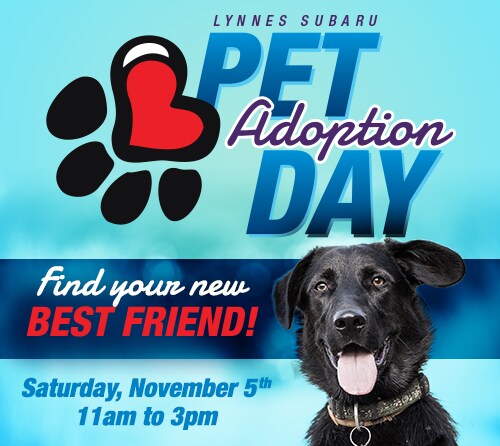 The Bloomfield Animal Shelter will also accept monetary and item donations. Boxes will be set up at our facility for those looking to provide food and other items for the shelter. Those who attend this event will be able to take part in giveaways and indulge in snacks as well.

If you're looking to welcome a lovable pet into your family, visit Lynnes Subaru on Saturday, November 5th between 11am and 3pm! For more information about Pet Adoption Day or the Bloomfield Animal Shelter, please call Stella Kelly at Lynnes Auto Group at 973-743-2111.