When looking for an "oil change near me", many Subaru owners have trouble knowing
what kind of maintenance a vehicle needs
and where to get it.  Despite driving in and out of New York City and dealing with local Bloomfield, NJ, Union, Parsippany and Jersey City, NJ, traffic, plus enjoying any outdoor adventures you take, you might be surprised to learn that you probably don't need maintenance on your Subaru as often as you think.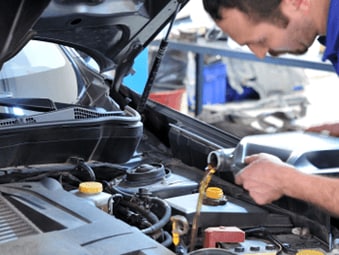 For example, what's really the point of an oil change?  In the old days, people didn't get oil changes; they refilled their engine oil because it leaked constantly.  With new developments in the engineering and design of automobile engines, necessary oil tank refills turned into necessary oil changes.  And with new innovations in engineering and motor design, owners can now stretch the old adage of a 3,000-mile oil change timeline farther than ever before. However, there are many signs that you're Subaru needs an oil change that you should always be on the look out for.   
Subaru Forester Oil Change in Bloomfield, NJ
Importance of Motor Oil
Motor oil is mandatory for overall engine health. It's been called the lifeblood of the engine because it keeps all of the engine parts lubricated and prevents metal-on-metal rubbing reminiscent of nails on a chalkboard.  Waiting too long to get the oil changed can result decreased engine efficiency, a low oil level, and dirty motor oil.  The best way to know how often your oil needs to be changed is to read your owner's manual and pay attention to how your car is driving to know when is the best time for your particular driving habits.
Knowing which oil is right for your car also can be tricky to figure out. What's the difference between conventional and synthetic oil, anyway? Reading your owner's manual is the best way to determine whether you should use conventional or synthetic oil to keep your Subaru operating at its maximum potential.
Additional Information and Tips

Between getting the kids to school and after-school sports in Bloomfield, NJ, traveling to work, cooking meals, and simply getting everybody in your family in one place at the same time, it's hard to fit in regular maintenance on your Subaru.  But it's vitally important for your Subaru's health.  Think of your Subaru as part of the family-name it if you want, but just make sure to take care of it the way you would your children. 
What's just as important as your personal relationship with your Subaru is the relationship you have with your local service department because the staff there know your car the best.  They're trained to look for developing problems and can recommend a plan of action for any concerns that works with your schedule and your budget. 
Schedule an Oil Change Today!
Waiting for a call back from a busy service department may seem like a waste of your time, so that's why some dealerships, including
Lynnes Subaru
, offers quick and easy
online scheduling
.  Returning customers don't even have to enter their vehicle information-just input your name, phone number or email address, and we'll get back to you as quickly as we can.
There really isn't a better way to take care of your car than bringing it to the people who want the same things you do: a happy car and a happy life.