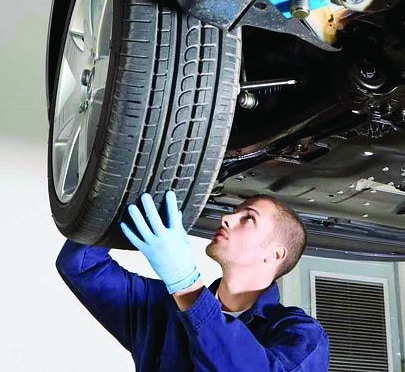 An integral part of vehicle maintenance is routinely rotating your tires. The weight of a vehicle isn't evenly distributed and each tire wears in a different pattern, so rotation allows for equal wear on all four tires, which lets you get the most out of them.
Tire Manufacturer vs. Automobile Manufacture Tire Rotation Recommendations
The owner's manual of your vehicle or information from the tire manufacturer should recommend how often to rotate your vehicle's tires. Some tire manufacturers, such as Goodyear, recommend between 3,000 and 6,000 miles or at the time you change your vehicle's oil. Automobile manufacturers of all-wheel drive vehicles, like Subaru, suggest tire rotation should occur every 7,500 miles or every 7.5 months, whichever occurs first.
If you plan to coordinate your tire rotation with your oil changes, be aware that, although it's suggested that you perform the rotation at the time you have your oil changed, many auto makers recommend changing your vehicle's oil at 7,500-mile intervals. Some vehicle manufacturers, such as Ford, Toyota and Volkswagen, are increasing that recommendation to 10,000 miles. It's not suggested that you wait that long before rotating your tires, because that measurement doesn't reflect everyone's driving style.
If you drive your car fewer than 7,500 miles per year, it's recommended that you rotate your tires at least every six months. The lack of use means that the undistributed weight of the vehicle is constantly resting on the tires, especially the front tires, which bear the weight of the car's engine and the force when you brake. So regardless of how often you drive your vehicle, you'll want to rotate the tires regularly to maximize their potential.
Tire Rotation Based on Driving Habits
Tires wear differently depending on your driving style, vehicle suspension, and the position of the tires on the vehicle. On front-wheel drive vehicles, in addition to the weight of the engine, there's also added pressure from steering, which will cause excessive wear if the tires aren't rotated routinely.
If you find yourself slamming on the brakes often, not only will your brakes suffer, but your tires will as well. To get the most out of your tires, ease up on the brakes a little bit and make sure that you're regularly rotating them. This will save you money in the long run.
Tires have traction ratings of AA, A, B, and C. Make sure that you stay in the AA to A range because those are the best tires due to their high traction. Traction is important because it allows you more control and shorter stopping distances. Picking the right kind of tires can go a long way to prevent a collision during your commute.
If you buy cheap tires, or ones with a lower traction grade, they'll wear out more. Not having enough traction causes unneeded friction, which results in their lifespan decreasing drastically. If you buy higher quality tires, you'll not only see the difference, but you'll also feel it when you're driving. When you buy cheaper, lower traction tires, you'll actually end up spending more money because they'll need to be replaced more frequently. Save yourself some time and money and spring for the higher quality tires.
Tire Rotation Cost and Benefits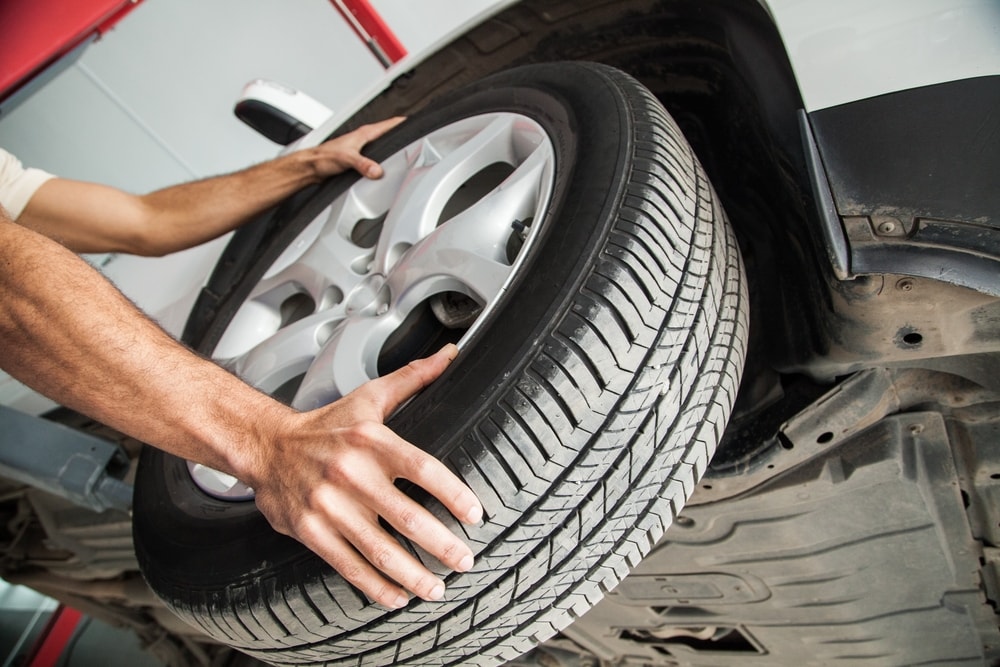 Rotating your tires is an easy process. The tires should be moved clockwise, from rim to rim, around the vehicle or crisscrossed from front to back. The cost of having your tires rotated ranges between $30 and $35. Some oil and lube shops will include the price of tire rotation in the cost of their oil change services and some tire retailers offer free lifetime tire rotation with the purchase of a full set of tires.
Tires are costly but you can save substantially if you include tire rotations as part of the maintenance on your vehicle. Tire rotations extend tread life, maximize traction and will help improve driver safety and the vehicle's handling.  It also adds to fuel conservation. As you can see, there are numerous benefits to rotating your tires.
Tire Replacement
Replacing tires one by one can be irritating on many levels. It's always recommended that you buy them all at once, rather than replace the worn out ones. When you go to replace your tires, you want to make sure that you're buying the right brand and traction rating. If one of your tires happens to wear out, replace it and the corresponding tire so you can evenly distribute the wear and tear during your next tire rotation.
Because tires are expensive, you may feel the need to cut corners. You can, but if you don't buy high quality tires, you'll end up replacing them more often. You want to buy tires with the highest possible traction rating, not only to ensure their quality, but also to make sure that they'll function well on the road.
Tire Rotation Bloomfield, NJ
All in all, rotating your tires is a way to make sure you're getting the most out of your tires. They go through wear and tear and it's not always even, so having them rotated every once in a while will allow you to use your tires to their full potential before spending money on replacing them.
Tire rotation is a recommendation, not a strict rule to live by, but you don't want to take any chances when it comes to your vehicle. Having your tires regularly rotated will do wonders to increase their longevity and their abilities. In order to make sure that every tire is wearing evenly, you must have them rotated on your vehicle. Not only will this make your tires last, but it will make your life easier when it comes to replacing them.
At Lynnes Subaru, our service department specialists are equipped to handle all of your tires needs, from alignment and rotation to replacement and air pressure. Stop in and visit us for an appointment or schedule your next service appointment online today. We're always happy to help out drivers in the Montclair, Clifton and Bloomfield area figure out the best course of action when it comes to their tires.