It's never fun driving around the Bloomfield, Clifton, and Montclair area when there's a noise coming from your brakes. When your brakes make strange noises, it's telling you that there's a problem that you should have looked at by a professional. It's never a good idea to drive around when your brakes aren't functioning properly, because without them, you may not be able to stop. The noises that comes from your brakes can tell you a lot, so to prepare you, we're going to list the brake noises that you shouldn't ignore.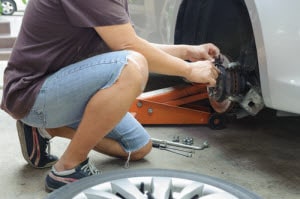 Learn about the different noises that your brakes can make, what those noises mean, and what you can do to bring your brakes back to working order.
Squealing Brakes
There's nothing more hard on the ears than when your brakes squeal. This high-pitch sound will make you cringe, but it will also make you aware that there's something wrong. There are actually multiple factors that could contribute to this painful noise. The causes could be that your brake pads have worn out. It could also be rust build up on your rotors. Due to the location of your rotors, it's not uncommon for water to splash up, and over time, they'll rust and begin to wear. These are a few reasons why your brakes could be squeaking.
Brakes Grinding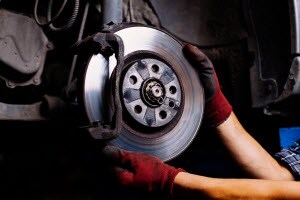 Grinding brakes are equally as blood-curdling as the squealing. This metallic and jarring sound is your brake pads, or lack thereof. When your brake pads have completely worn down, it results in the disc and caliper to rub against each other. Your brake pads act as a cushion to prevent these two parts from rubbing against each other and scratching the rotors. If these parts continue to rub against each other and scratch the rotors, your braking system will endure more damage and expensive repairs will be required.
Clunking Noises
If you hear a clunking, or knocking sound, there's a good to fair chance that it's loose bolts. Check to see if your bolts are tightened. If the problem persists, there are a variety of different components that could be the cause of the clunking sounds. It could be loose calipers that would need to be tightened. If it's your shock absorbers, they'll most likely need to be replaced. The problem could also stem from your constant velocity joints being worn out. A trusted service technician will be able to identify the problem, so you can drive, and brake, safely.
Brake Services Bloomfield, NJ
If you hear any of these sounds coming from your brakes while you're applying pressure to the pedal, you'll want to get a professional to take a look at your braking system to identify the cause of the noises. Drivers in the Bloomfield, Clifton, and Montclair area can always contact us at Lynnes Subaru.
Our Service Center has the necessary tools and our skilled and certified technicians will make sure that your vehicle receives the best care. They'll gladly check your braking system to find the problem and work out the best solution so you can enjoy driving around with noise-free and fully functioning brakes.
Schedule your brake service with Lynnes Subaru today.