Below, we've compiled a rundown on where to eat in the Bloomfield, NJ area for some truly delicious food!
Ariane Kitchen & Bar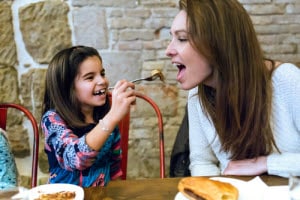 For seasonal, savory, and downright delicious meals, you'll love Ariane Kitchen & Bar. It has a full bar menu of delightful treats, including bacon-wrapped Parmesan stuffed Medjool dates and fresh, buttery salted pretzel rods.
And their dinner fare is just as impressive! The juniper-cured pork chop is savory and succulent, while the warm butter cake is a satisfying and sweet way to end a wonderful meal.
Laurel & Sage
With modern American cuisine that will leave mom raving, you're going to love Laurel & Sage. This elegant and cozy spot combines class and comfort with seriously delicious food.
The squid ink linguine is fresh and succulent, and has a striking look that's Instagram-worthy. And the crispy, warm perail papillon wheel is a unique treat you'll savor every bite of. It comes with lingonberry jam, and a refreshing cucumber dill salad.
The Terrace Lounge
If your friends and family would prefer a fancy affair complete with evening wear, schedule a reservation at the Terrace Lounge at The Manor. The Beef Wellington is a refined classic option, while the shelled Maine lobster is braised in a sweet butter and served with sunchoke and pear puree, crispy polenta, and a delectable lemongrass-ginger and shellfish emulsion.
And whatever you do, save room for dessert. The chocolate malted mousse torte comes with Nutella ice cream and is a sweet end to an elegant and flavorful meal.
Check Out Where to Eat in North Jersey
Now that you know where to eat this weekend, it's time to make a reservation at one of these great spots! Whichever you end up picking, you're sure to share a special meal with the people who matter most to you!