Ice skating is a fun, healthy activity you can enjoy no matter what time of the year it is. This winter, round up your kids, gather your friends, or grab that special someone, and get out on the rink. Here are a few of our favorite ice skating rinks near Bloomfield, NJ.
Clary Anderson Arena
No matter what day you get a hankering for some ice skating, Clary Anderson Arena has got you covered. They offer an open ice skating arena for a few hours a day, seven days a week. Once you've worked up your appetite on the rink, stop by their cafe with tasty temptations ranging from breakfast foods to snacks along with full-out lunch and dinner meal options. And, of course, hot cocoa.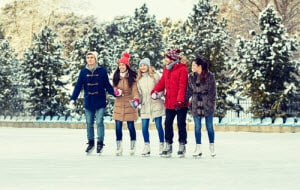 Clary Anderson Arena also hosts hockey games and practices for local teams and leagues. For those of you who have always wanted to try out ice hockey, they even have time slots for open adult ice hockey on Tuesday and Thursday afternoons.
Never skated before? No problem! Clary Anderson Arena offers classes for all ages. So don't be shy—don your scarf and mittens and give it a whirl.
Floyd Hall Arena
Floyd Hall Arena has something to offer ice skating enthusiasts of every age and any level of experience. Their two rinks, NOVA and VEGA, are constantly bustling with children's skating lessons, hockey league practices, twirling figure skaters and everyday freestyle skaters. Enroll your kids in one of the skating camps, or get involved yourself by joining one of the adult skating or hockey programs. Impress your significant other this season by enlisting in the adult ice dance program, so the two of you can tear it up on the frozen dance floor all year long.
Group events are also available almost every day of the week, and you can keep your crowd satisfied with one of the food catering options. Bring your little ones and their pals for a birthday party, or plan a get together for your group of friends or associates.
Ice House of New Jersey
Watch them as they spin, as they whirl, and as they twirl. Figure skaters, hockey players, and beginner skaters alike enjoy all that the Ice House of New Jersey rink has to offer. During the winter season, public skating is only open on the weekends, but you'll soon discover that their Friday night Skate Jam is a weekly favorite. Try hosting a Skate Jam Party that includes a decorated party room with pizza, soda, and ice cream cake. Jam out on the frosty dance floor amidst funky laser nights and a fog machine to the live DJ's music.
The Ice House's Learn to Skate program caters to all ages and experience levels, and is ranked in the top ten best programs in the nation. So sign up for some ice skating lessons, and who knows? You may have just found your true calling.
Take Off in a Subaru to These Great Ice Skating Rinks near Bloomfield, NJ
In order to enjoy the best ice skating rinks near Bloomfield, NJ, you need reliable transportation to get to these fun destinations. Come take a test drive at your local Lynnes Subaru, and our friendly and knowledgeable sales associates will help you find an affordable, reliable vehicle that will suit your unique driving needs so you can see all that Bloomfield has to offer. Contact us today!