The Subaru Forester is one of the most popular vehicles in the Subaru lineup due to its stylish design, roomy cabin and utility. This is a utilitarian crossover that was built to fit the lifestyles of a variety of drivers—and those who drive Foresters in the Bloomfield, Montclair and Clifton areas are loving them. Of course, a pretty face and wonderful tech package would be nothing if this vehicle did not also have good fuel efficiency. It is a complete package, but there is always room for improvement. As the prices of fuel continue to fluctuate, you will want to do everything you can to stretch every gallon. We've got the inside scoop on how you can increase the fuel efficiency of your Subaru Forester, making it even more economical and enjoyable.
Check Your Subaru Forester's Tires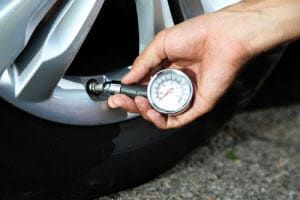 Did you know that driving with tires that are not properly inflated can reduce your fuel efficiency by up to 3 percent? That might not sound like much, but that amount adds up quickly. You can improve the mileage per gallon of your Subaru Forester by checking to make sure that your tires are filled to the proper levels. It is important to note that your tires lose an average of 1 PSI every month, and more during the cold months of winter.
Give Your Engine Some TLC

Regular engine maintenance plays a huge role in keeping your Forester fuel efficient. A poorly kept engine uses more energy than one that is kept in good order. Talk to your mechanic about scheduling service appointments to check your spark plugs, change the oil and other fluids, as well as clean your engine. This will maximize your fuel economy by making the work easy on your engine.
Checking Subaru Forester Air Filter

Your engine needs to breathe, and a dirty air filter will cause it to stall in idle and run less efficiently, sucking down your gas. Driving on dusty roads can make your filter extra dirty. If you suspect that the fuel efficiency of your Forester has decreased, have the air filter checked. It might be time for a replacement.
Check the Fuel Filter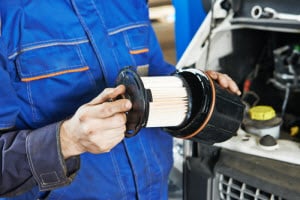 The fuel filter cleanses fuel as it pumps through your engine. Just like any other filter, this can get pretty messy inside. Your Subaru's fuel filter should be replaced according to the recommended maintenance schedule.
Decrease Cargo Weight

Try lightening your load to increase the fuel efficiency of your Subaru Forester. If you do not need an item, take it out. Also, keep your tank filled between a quarter and halfway to maximize efficiency.
Visit Us at Lynnes Subaru
These are just some of the basic ways to increase the fuel efficiency of your Subaru Forester. However, regularly scheduled maintenance is also one of the best ways to keep your Forster fuel efficient and running like new. If your Subaru Forester needs maintenance, visit our service department or schedule your next service appointment online. We're your local Bloomfield, Montclair and Clifton Subaru dealership proud to help you with all of your automotive servicing needs.