Whether Christmas is on your radar, it's coming up, folks! We don't know about you, but chocolate is one of our favorite parts of the holiday season. There are so many good opportunities to indulge, from chocolate fountains at corporate holiday parties to the bags of chocolate coins we leave in our children's stockings—we're already loosening our belts to make room!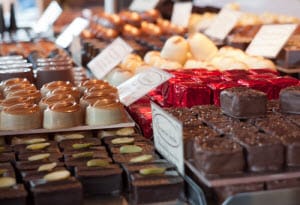 Did you know there's an entire holiday dedicated to chocolate? That's right; every year on October 28th is National Chocolate Day. It's too late to formally celebrate it this year, but we think there's nothing wrong with celebrating something as sacred as chocolate a little late. In honor of shopping local this holiday season, here are the best chocolate shops near Bloomfield, New Jersey, that are worth your time this fall and winter.
Holsten's Brookdale Confectionary
Celebrating its 75th Anniversary this year, you may recognize this Jersey staple from its appearance on The Sopranos. Holsten's Brookdale Confectionary is most famous for its homemade ice cream, but stop by and you'll find there are many other mouthwatering treats on the menu. The old-fashioned atmosphere has changed very little since its original opening as Strubbe's Ice Cream Parlor in 1939. Step in and take a small step back in time—if only for the few moments it takes to finish a delicious sundae!
Bromilow's Home-Made Chocolates
Another of the oldest chocolate shops near Bloomfield, this chocolatier has called rural West Paterson its home since 1958. You can put together your perfect box of chocolates for any occasion—take your pick from over 150 items! Using the best, freshest ingredients possible, all chocolates are made by hand and right on the premises. If you're attending a holiday party and want to bring an exceptionally memorable gift, consider getting a tray—the hostess will love it! Bromilow's Home-Made Chocolates also offers rotating seasonal specials, including a holiday-themed gift box tray.
Adi's Sweet Shop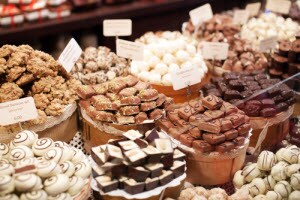 If chocolate really is the name of the game for you, Adi's Sweet Shop is the place to be. Most shops pick one or two main focuses, and chocolate really takes the cake here. You can even imbibe a delicious melted chocolate beverage—whatever suits your fancy! You'll receive some of the most personalized service you could expect from a sweet shop. The owner is even on the floor much of the time, making small talk and getting to know her customers. The gift baskets are hand-selected and curated, making the perfect gift to take to your next holiday-themed function.
These chocolate shops near Bloomfield are just one of the many ways to support the local businesses in your community this holiday season. We at Lynnes Subaru wish happiness to you and yours this new year—and that includes eating lots of chocolate!