Were you aware that September 18th is National Cheeseburger Day? Cheeseburgers were supposedly an accident. A young boy mistakenly dropped a piece of cheese on a sizzling patty, and before he knew it, the cheese began to melt onto the meat. Luckily, this accident resulted in one of the most sought after sandwiches in the country. To help you celebrate National Cheeseburger Day the right way, we've looked all around and discovered the three best burger spots in Montclair. Sample these burger joints so you can pick the perfect one to celebrate.
Organic Bareburger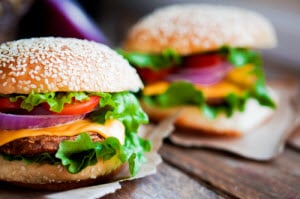 If you're looking for a run-of-the-mill fast food style burger, Organic Bareburger is not the place for you. This eatery offers you fresh ingredients with your burger that will make you forget all about those quarter pounders and whoppers. This location delivers you fresh salads and crops, but above all, they deliver a savory burger.
The great thing about this place is that you can make your burger the way you want. You start with the patty, with options like beef, bison, elk, wild boar, duck and even black bean. You then work towards your bun, cheese and bacon. Pick your veggies, then find your sauce. You have options like curry ginger ketchup, paprika mayo or smoke sauce. Make the best burger possible at Organic Bareburger.
Manny's Diner of Montclair
Manny's Diner of Montclair isn't your standard diner. This family-owned establishment offers a variety of food that's perfect for any time of day, but we're here to talk about burgers. Manny's features a variety of burgers that it will be difficult to make a decision without getting drool on the menu.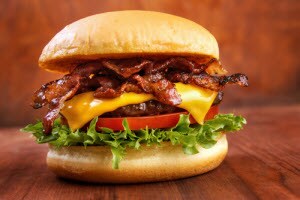 Manny's doesn't skip on the helpings. This diner serves up 8 oz. 100% Black Angus Beef burgers. You can stick to classics like the cheeseburger, pizza burger, barbecue burger or even the California burger. If you're feeling adventurous, you could try one of their specialty burgers. You have your pick of the bruschetta burger, Jersey burger with Taylor ham, the bleu max burger, the Greek burger or the French onion burger.
Ray's Luncheonette
Ray's Luncheonette has been proudly feeding the people of Montclair for more than 40 years. With that kind of experience under the belt, you know that they deliver a great burger. Pick between a beef burger and a turkey burger, and go from there to make it your own.
Add delicious toppings like bacon, cheese, friend onions or even another patty. If you're looking for the specialty burgers, there's the Baja cheeseburger, which features pepper jack cheese and spicy jalapeno sauce. The Freddy Fred is an 8 oz. patty with caramelized onions and sharp cheddar cheese served on a soft white roll.
All of these Montclair eateries deliver the goods when it comes to good 'ole fashioned burgers. Now that you know our three favorites, go out and find your perfect burger for National Cheeseburger Day.