It has been said that breakfast is the most important meal of the day, but that doesn't mean that we have to rush through it while getting ready for work. Breakfast is a delicious way to start your morning, and you don't have to hover over the stove to make sure that you're doing it right. Actually, going out to breakfast, or brunch, is great, because you can enjoy your favorite morning meal without having to cook it. That's why we have this list of the best breakfast spots in Montclair, N.J.
Bonjour Montclair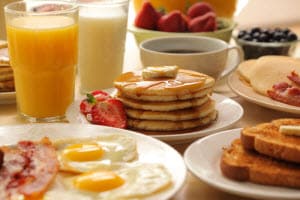 Bonjour Montclair allows you to sample classic French breakfast meals without the hassle of airfare, baggage and jet lag. This Montclair-based café offers you a wide variety of classic dishes and French twists. Sample the French Toast Bonjour, which features a croissant and a caramelized apple.
Or, if you're feeling adventurous and want to change it up from the usual bacon and eggs, you could get a crepe. The Morning Crepe features eggs and your choice of two fillings. You can get ham, Swiss, feta, onions, tomatoes, spinach, even peppers. If you have room, you can try some of the sweet crepes, like Nutella Chocolate, Banana Caramel Nuts, or the Sautéed Pineapple & Banana.
The Corner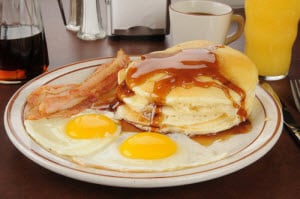 You won't have trouble finding the Corner in Montclair. When you're looking for robust and flavorful coffee or fresh pressed juices, on top of delicious breakfast food—this location is for you. You can keep it simple with something from the bakery, like a chocolate croissant, buttermilk biscuit or the pastry board, which features fresh baked goods, butter and fruit preserves.
If you're looking for a well-rounded breakfast, you can get the Farm Eggs with smoked bacon, toast, a garden salad and a fresh fruit cup. If you have a sweet tooth, you may appreciate the Fresh Berry Pancake, which offers poached apricots in a vanilla syrup. Of course, you can always get satisfaction from the Breakfast Sandwich. This unique take on a classic features house cured bacon, egg, garlic aioli and greens served with pickled red onion on a buttermilk biscuit.
Red Eye Café
If you're looking for fresh and locally sourced ingredients, you may want to try the Red Eye Café. This local eatery has been featured in New Jersey Monthly as one of the best cafes in New Jersey. Start off with coffee, whether you want a simple cup of Joe, an espresso, or even a Café Au Lait. Then, work your way down the menu.
Red Eye Café offers a variety of breakfast sandwiches that are sure to satisfy your hunger pangs. The Sweet Scramble features cheesy scrambled eggs, onion jam and arugula—all served on an English muffin. If you're looking for a bigger breakfast, try the Green Eggs and Ham. This dish really delivers on the name, with eggs scrambled with kale, shallots and gruyere cheese, served with ham, toast and hash browns.
This list informed you of the best breakfast spots in Montclair, N.J. Now that you have this list, it's time for you to do the leg work and find your favorite place to go for your perfect morning meal.