You're a Subaru driver in and around Bloomfield, NJ—think about how much time you must spend in that car. Perhaps you even commute back and forth between New York City, Montclair, and Clifton, NJ, but how often do you get your oil changed? Oftentimes, many Subaru drivers ignore telling signs that indicate their oil needs to be changed.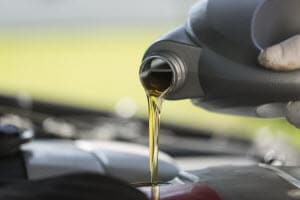 Regularly getting your oil changed is one of the simplest ways to maintain your Subaru's performance and lifespan. However, it's also easy to forget, especially now that some extended-range oils can last for 10,000 miles—well beyond the general recommendation that you should have your oil changed every 3,000 miles.
Even if your check engine light hasn't come on, your Subaru might very well be in need of its next oil change. But how can you tell if its time? Start out by simply listening to your vehicle. If you notice your car making any of the noises listed below, it's indicative that your Subaru needs an oil change.
Your Subaru Makes a Metallic Grinding Sound
Since the purpose of motor oil is to lubricate your engine, it's easy enough to tell if you're running low when the parts have started grinding against one another. If there's a lack of oil or if it's gotten old and no longer acting as a barrier, the constantly moving parts will create dry friction and give off a metallic grinding sound or clattering noise.
If you notice the engine running more loudly and making more abnormal noises than usual, don't put it off—your Subaru needs an oil change!
Clicking Noises from the Engine
Is your Subaru particularly loud even though you take it for regular maintenance? If you hear a clicking sound coming from your engine, it could indicate that the valve is slightly loose. This might mean that your Subaru needs a new type of oil; consider switching to high-mileage or synthetic engine oil. These help with older models whose engines can be louder even when there's no mechanical problem to speak of.
Other Signs Indicating That Your Subaru Needs an Oil Change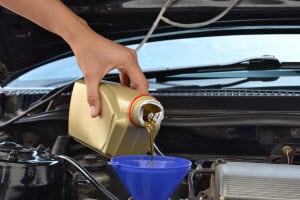 While abnormal sounds from your vehicle's engine are a definitive sign that your Subaru's oil needs to be changed, there are several other ways to tell if it's time. For instance, oil changes to a much darker color even just a few weeks after it's been changed. That's fine, but once you start seeing solid particles building up in your now-black motor oil, it's definitely a sign that your Subaru needs an oil change.
Another way to tell if your Subaru needs an oil change is to simply look at the oil level. Especially if you're driving a high-mileage Subaru, it may be time for an oil change if your oil has fallen below the recommended level. It's a good idea to make a habit of checking your oil level every month or so.
Establish an Oil Change Schedule
Finally, the best way to remember when it's time for an oil change is to put your Subaru on a schedule. Next time you get your oil changed, keep track of when you should get your next change by marking a date three months out, either by marking the day on your calendar or setting an alarm on your phone. That way, even if it slips your mind, you'll have a physical reminder once the day comes.
Schedule an Oil Change at the Lynnes Subaru Service Department
Stop by our service department at Lynnes Subaru in Bloomfield, NJ, and we'll be happy to provide this common automobile service for you with exceptional quality. We're located at 379 Bloomfield Avenue, convenient for any customers throughout Bloomfield, Clifton, and Montclair. Schedule your next oil change with us today!