Living in the Bloomfield, Clifton, and Montclair area, you know how important it is to own a solid, stylish sport utility vehicle. With so many great options out there, the prospect of making a final choice can be daunting. Hopefully what follows will alleviate that stress. Here's a vehicle review of the wonderful and always surprising 2016 Subaru Forester.
Power of the 2016 Subaru Forester
The 

2016 Subaru Forester

 unleashes 170 horses and leverages 174 lb-ft of torque, which could reasonably lead you to believe that it's a monster. However, its 2.5-liter engine accelerates powerfully but remains remarkably quiet with little interior noise. All in all, the Forester provides a comfortable ride, driving like a much smaller car.
The XT trim has a stiffer chassis, larger brakes, and enhanced spring rates that combine to provide a sportier ride. Handling is greatly improved by the 18-inch tires, still with no added noise or decreased comfort. The turbo engine jumps from zero to 60 in 6.2 seconds.
For a greater degree of control when descending a hill, the 2016 Forester's continuously variable transmission (CVT) includes a low mode setting. Higher trim grades feature X-Mode with Hill Descent Control, lending even more precision to your downward trajectories and control-enhancing features. The Forester's CVT simulates a six- or eight-speed transmission with its Sport Shift function, inciting maximum responsiveness.   
Forester Fuel Economy
The 2016 Subaru Forester boasts an EPA-estimated 24 mpg driving in the city and 32 mpg on the highway, putting it near the top of its class in terms of fuel economy. The six-speed manual gearbox comes standard with the base and higher trim grades, achieving 22 mpg in the city and 29 on the highway.
The XT trim, with its direct injection turbocharged 2.0-liter engine, unleashes an impressive 250 horsepower and generates 258 lb-ft of torque. Despite what you may think, fuel efficiency doesn't suffer for this boost in power, as the XT still manages an estimated 22 mpg in the city and 28 mpg on the highway on regular, unleaded gasoline. The manufacturer recommends, but doesn't require, premium grade gas.
2016 Forester Trim Features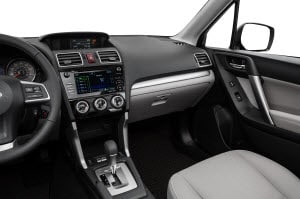 This year's Subaru Forester comes with a bevy of great features, regardless of the trim. The standard 2.5i offers cruise control; air conditioning; a tilt-and-telescopic steering wheel; power mirrors, door locks, and windows; 60/40-split folding rear seats; and a 6.2-inch single-touch gesture display audio unit complete with radio, a single CD player, satellite, and Bluetooth streaming.
One of the higher tech options offered for the Subaru Forester is the EyeSight driver assist system, which, with Adaptive Cruise Control, can help you keep an adequate distance between you and the cars ahead. The system can help you to avoid accidents by decreasing speed in the event of an impending crash, giving you audible warnings as needed. When traveling 19 mph or under, this system can even automatically stop your car on its own, preventing a potential rear-end collision.
Technology in the 2016 Subaru Forester
The 2016 Forester is loaded with state-of-the-art technology features that make the vehicle stand out in the class. It offers EyeSight Driver Assist, SUBARU STARLINK technology with Pandora application integration, and a 7-inch touchscreen and voice controls. It also offers the STARLINK Safety Plus package, which includes automatic collision notification, enhanced roadside assistance, and connection to emergency personnel when you need it most. 

The voice-activated GPS navigation and Bluetooth integration make getting where you need to go as safe as possible. And the vehicle's X-Mode makes those off-road adventures even more fun by enhancing the braking and traction control systems. For more information on the 2016 Subaru technology, read our technology review.  
Forester Safety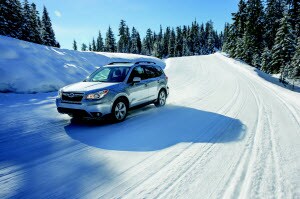 In terms of safety, the 2016 Subaru Forester is incredibly well-equipped. With the latest safety technology on board the vehicle can definitely keep you, your passengers, and the other drivers on the road as safe as possible. These features include Vehicle Dynamics Control, a four-wheel anti-lock braking system, Brake Assist, daytime running lights, and a tire pressure monitoring system.
The 2016 Forester also offers a standard rear-vision camera, a feature that's being included in more vehicles in this class. It's also equipped with several security features, including a keyless entry system, an anti-theft security system, and an engine immobilizer.
There are also several additional safety features for the vehicle, including EyeSight Driver Assist, which monitors the traffic movement around you. Using a camera, the system works with cruise control to ensure that you keep your distance from the vehicle in front of you.
In terms of safety ratings, the 2016 Subaru Forester received an overall five-star rating from t
stars for side crash tests, and four for rollovers.  he National Highway Traffic Safety Administration, with four stars for its frontal crash test rating, five
Whether you are traveling through Bloomfield, Montclair, or Clifton, you can be assured that you're safe in the 2016 Forester. Read our safety review to learn more.    
The Forester vs. the Competition                                                     

 
When buying your next vehicle, be sure to check out the Forester's competition. This will help you feel confident that you're making a great buying decision for you and your family as well as ensu
The Forester has quite a bit of competition in the segment but still manages to come out ahead.re that you're getting everything you want from your next vehicle.
2016 Subaru Forester vs. 2016 Ford Escape
When comparing the Forester and the Escape, you'll quickly see how the two vehicles differ. The Forester offers a lower price point and larger base engine and has standard all-wheel drive, making it a competitive choice against the Escape.
2016 Subaru Forester vs. 2015 Honda CR-V
After looking at the specifications of the Forester and the CR-V, you'll quickly see the differences between these two vehicles. The Forester offers standard all-wheel drive, a six-speed manual transmission with overdrive, and a 2.5-liter engine, none of which you'll find with the CR-V.
For more in-depth vehicle comparisons of the Forester and other models in the class, check out the Vehicle Comparisons page from Lynnes Subaru. 
Test Drive the 2016 Subaru Forester Today!
We're confident that you'll fall in love with the 2016 Subaru Forester as soon as you hop behind the wheel. The only thing left to do is to find your way to the Bloomfield, Clifton, and Montclair area, call Lynnes Subaru, and schedule a test drive today! We're conveniently located at 379 Bloomfield Avenue in Bloomfield, NJ. Our helpful sales staff is available Monday through Friday from 9 am to 9 pm and Saturday from 9 am to 7 pm.